Serious MVC near Parramatta Valley
Posted on September 1, 2015 by 40 Mile Commentator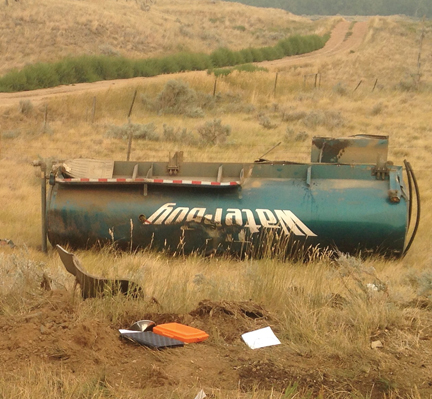 PHOTO SUBMITTED BY RON HOLMES - The driver of a water tanker truck was seriously injured when his truck overturned as he attempted to descend a steep grade and navigate a tight curve.
By Tim Kalinowski
A tanker truck which carries potable water to 13 homes in the Parramatta Valley area lost control coming down a series of steep curves on Range Road 70  last Tuesday afternoon and ended up overturning in the ditch.
During the accident the vehicle's water tank detached from the chassis and the driver sustained serious injuries, including a a deep gash on the throat. The driver was conscious when found by those who first came on the scene, but indicated he was having trouble with his legs.
Due to the isolated location of the rollover it took about 45 minutes for the Medicine Hat Fire Department to arrive and extract the driver from the wreckage using the Jaws of Life. He was then rushed to Medicine Hat Regional Hospital in serious condition. There was no further word on the health of the driver as of this paper's publishing deadline.
The tanker company, based in Dunmore, was contracted to start bringing drinking water to the area in the lead up to the permanent suspension of operations at the Paramatta Water Co-op water treatment plant this October. The plant is being closed after 40 years due to tightening Alberta Health regulations on potable water supply, leaving 13 homes without access to a steady drinking water supply.
According to Redcliff RCMP no charges have been laid in connection to the accident at this time.