Hillyer can't avoid stigma of Veterans' Charter during debate
Posted on October 6, 2015 by 40 Mile Commentator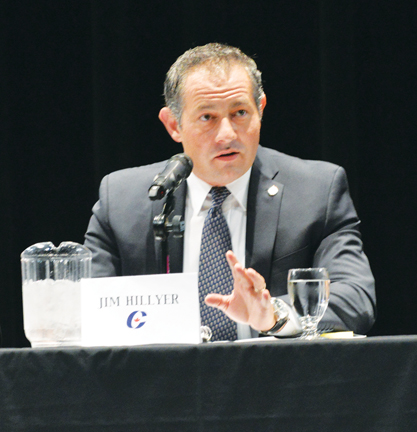 The New Veterans' Charter turned out to be a major problem for Conservative candidate Jim Hillyer during last Tuesday's debate.
By Tim Kalinowski
During last Tuesday's debate at Medicine Hat College the issue of veterans benefits and the New Veterans' Charter (NVC) laid bare the divide on this issue between all the parties, but also the huge, and largely unspoken, divide between the older generation of vets and younger veterans from the Afghanistan War.
Independent candidate Jim Turner served as a paratrooper during the "peacekeeper" era in Canada's history. He pointed to the double standard many young veterans in Canada have been experiencing since the passage of the New Veterans' Charter.
"I am a veteran, but I have never had to use the Veterans' Charter," confirmed Turner. "Let's look at the New Veterans' Charter. Before that came out people from the First World War, Second World War, Korea, Peacekeepers, they were actually okay with the DVA (Department of Veterans Affairs). They were actually well taken care of. I know one guy who is 22 and got shot in the head in Afghanistan. Part of his brain missing. $23,000 one time pay-out. So when they hear a quarter of a million dollars; that's only for the folks who are severely wounded and severely handicapped. I have only known of one person that has ever got a quarter of a million dollars and that person is a paraplegic, and he needs 24 hour care. The Charter is not working. They have to go back to the old system."
Turner was echoed in this belief by the Liberal, Green and NDP party candidates, leaving Conservative Jim Hillyer as the odd man out. Distancing himself somewhat from his party's position on the New Veterans' Charter, Hillyer said the whole new veterans discussion wasn't really about the amounts of money being paid out to young soldiers.
"During that time when it was really hot in the news, the Veterans Affairs Minister was not handling things very well. What was really bothersome to me was how the veterans themselves were being trotted about like political pawns and props on all sides. The fact the matter is the $5 billion a year more that is spent on veterans now than was spent before doesn't matter if veterans aren't getting what they need."
Hillyer went on to say he was open to discussing any problems veterans in the riding might be having with their access to services or benefits, and taking those concerns directly to Ottawa.
"I've met with veterans in my riding without calling the news; just to talk with them. I am finding out where they are not happy is not the amount of money; it is the bureaucracy. If they get released from the military for an on-the-job injury, they can't use that doctor's note to get their benefits from Veterans Affairs. They have to go through the whole thing again through the DVA to prove that they are injured again; it's stuff like that that is ridiculous and needs to get fixed."
But Hillyer didn't get off that easy on his government's veterans' policies. When the debate was turned over to questions from the audience, a young, local vet who served three tours in Afghanistan before being medically released from the military took to the microphone.
"Many of my friends, like myself, have to travel three or four hours to get the help we needed," said the veteran. "Are the parties willing to open up more offices even toward bases like Suffield? Medicine Hat would be an example. Are you willing to get the vets the help they need?"
John Turner sought to respond to the question as one vet to another.
"I don't think I would personally be in favour of opening offices," said Turner. "What I am more in favour of is actually military people working with veterans. I think if the soldier, the airman, the sailor is actually looking across the desk at someone in uniform, I think that's going to go a lot further than opening expensive offices."
The Afghan vet then asked why any vet who has been released from the military back to civilian life should have to return to the military to get vital supports that should be available to them close by their own home just like any other civilian with a medical disability.
"It's expensive (to open offices). But at one point we put our lives on the line for you," he said.
Turner again pointed to his own military service as a credential.
"I have been there too, sir. I get what you are getting at. I am just saying in the big picture get these (vets) talking to military people in the offices as opposed to the civilians in the offices…'
"Fair enough," said the veteran cutting Turner off, "I get what you're not saying."
He then asked for the other candidates to answer the question.
Again the Green, Liberal and NDP candidates all affirmed their parties' commitment to re-opening closed Veterans Affairs offices and hiring more front line workers. And then the question came to Conservative Jim Hillyer.
"If we weren't in a public forum, I would want to sit down with you and talk with you about your experience," said Hillyer. "About the services you had before, and what has changed. And what we can really do to solve the problem. There is no question we are throwing $5 billion more than used to be spent on Veterans Affairs, but something is not working. But I don't want to just say: Put more money into it. Because no one's happy that way. You are not asking for more money, you are asking with your problems to have someone listen to you."
The vet countered Hillyer's offer of personal communication with an anecdote from his own personal experience.
"You know what that (NVC) money does to our soldiers? You give a broken soldier thousands of dollars. I drank myself stupid and had to get more help. The money doesn't help. More offices open for people to talk to will help me."
Liberal Glen Allan also joined in reminding the audience who passed the NVC and closed the offices being discussed to begin with.
"Your party has cut front line staff, closed offices and broken the trust," said Allan speaking to Hillyer.
Hillyer once more made an offer of personal communication to the young veteran.
"No offense Mr. Hillyer, but you guys have had your chance. I am not willing to speak with you," the young veteran said.