SEAR gives gift of mobility to one little girl
Posted on November 10, 2015 by 40 Mile Commentator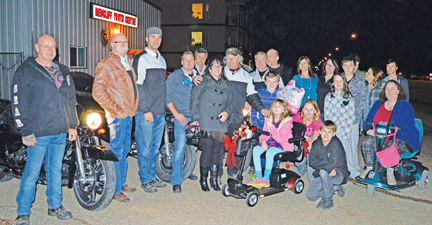 Arianna Sheane (centre) receives the keys to her new scooter from Crash Hildebrandt and other big-hearted members of the South Eastern Alberta Riders (SEAR) at the Redcliff Youth Centre last Friday.
By Tim Kalinowski
Last Friday night was very special for one local little girl in Redcliff. The South Eastern Alberta Riders (SEAR) donated a mobility scooter to Arianna Sheane who has Myasthenia gravis, a type of Muscular Dystrophy. Prior to receiving the scooter Arianna often had to rely on her friends to push her around in a manual wheelchair as her muscles were too weak to propel herself. She was over the moon to receive her shiny, new, red scooter.
"I am happy!" said an excited Arianna after receiving the keys from SEAR president Crash Hildebrandt. "One, people don't have to push me around. Also I get to actually control it… But I still need help with door," she is quick to add.
Arianna's mom Heather said the gift would go a long way toward helping Arianna feel less disadvantaged when playing with her friends.
"It's going to let her participate with her friends without having to be pushed around in a manual chair. It's going to give her the independence she never had before."
Crash Hildebrandt and many other SEAR members were on hand to present the scooter to Arianna at the Redcliff Youth Centre.
"Today we gave one of these motorized handicap scooters to Arianna. Where the money come from is all the riders around the Medicine Hat area and others come and all the money they spend on our events we put away to give to charitable causes; usually it is to kids. I just want to thank all the riders from the area. They know this is where their money is going, and its all because of them this happens," said Hildebrandt.