Foremost, Cripps win awards for unmanned airspace development
Posted on December 1, 2015 by 40 Mile Commentator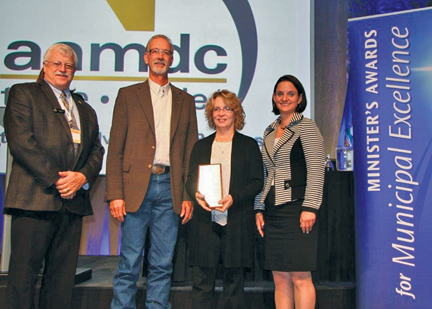 PHOTO SUBMITTED BY THE VILLAGE OF FOREMOST - From left: AAMD&C president, Al Kenmore; Foremost mayor, Ken Kultgen; village CAO, Kelly Calhoun; and Minister of Municipal Affairs, Danielle Larivee pose for a photo at the AAMD&C conference.
By Jamie Rieger
The Village of Foremost is the recipient of the Minister's award for municipal achievement in the small communities category, it was announced at the recent AUMA conference in Calgary and at the AAMD&C conference in Edmonton.
The Village was recognized for its innovative practices, specifically for the Foremost Unmanned Air Systems range.
"Sterling (Cripps, president of Canadian Unmanned, Inc.) was the guy who had the vision for Foremost for the unmanned vehicle airspace. He came to us and was the main push behind this," said Foremost mayor, Ken Kultgen. "It was nice to be recognized for all the work that has gone into this and it has been seven years in the making."
Cripps has also received accolades from Unmanned Systems Canada for his work in developing the Foremost Restricted Airspace for testing and development of procedures for operating UAS beyond line of sight.
Canadian Centre of Unmanned Vehicles in Medicine Hat was dissolved as of Dec. 1, with operations being moved to Foremost and is now called the Foremost Unmanned Air Systems range.
"They have turned over the operation to us, but will still have guys on the advisory board," said Kultgen.
Kultgen said that while the airspace at the 700-sq. nautical mile facility has been approved, they are currently working on their seventh draft of operational procedures.
The drone (UAS) industry is expected to have benefits for the agriculture, mining, pipeline, and policing industries.