Good cheer at Redcliff firefighters dinner
Posted on December 8, 2015 by Tim Kalinowski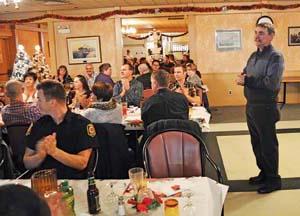 Photo by Tim Kalinowski Redcliff fire chief Ray Gradwell speaks to firefighters from both of Redcliff's fire departments at the Christmas dinner on Dec. 4.
Redcliff's two fire halls came together for a year-end Christmas celebration at the Redcliff Legion Hall banquet room on Friday evening. About 15 volunteer firefighters, along with their spouses, from the Redcliff Fire Department and Box Springs Fire Department enjoyed an evening of good food, good cheer and good company as they celebrated another safe and successful year on the front lines of emergency response in Redcliff and area. Redcliff Fire Department chief Ray Gradwell, who also now works as deputy fire chief in Cypress County, thanked the members for their year of great service.
"For our Redcliff guys, it has been an awesome year," said Gradwell. "Nobody got hurt. Everybody went home. We had people show up for all the stuff. We also have a couple new faces. Tonight we've especially got to thank the spouses for letting us do this and supporting us. Without you guys we couldn't do this because family has got to come first. You guys are number one with us."
Newly elected Box Springs district fire chief John McBain said he was pleased to be leading such a dedicated group into the new year.
"We've got a really good bunch of guys. Everybody comes out and does a good job. In the new year coming up we just want to keep everybody safe and keep doing the job," said McBain.
Highlights of the evening included a 25 year service award presented to volunteer Wade Gleisner and a fun and entertaining round of Chinese gift exchange as firefighters and their spouses kept trying to trade up to or, alternatively, keep the best gift on the night. The three most often traded gifts were a bottle of nice Drambuie scotch, an elegant Christmas wreath and a novelty "fart blaster," which requires no further explanation.
All in all it was a wonderfully casual and laid back evening which spoke to the great camaraderie shared by all of Redcliff's volunteer fire men and women. It was a well deserved party for a year of splendid service and dedication in keeping local citizens safe. Or as Chief Ray Gradwell said in a toast of sorts to end the evening:
"I don't think there is anything comparable to what we do in terms of public service in Redcliff."