Schuler students tackle timeless story of Rapunzel
Posted on December 15, 2015 by 40 Mile Commentator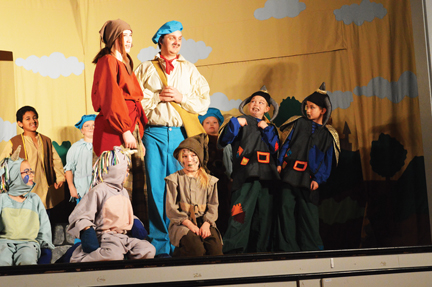 Missoula Children's Theatre helped Schuler School students put on an entertaining "Rapunzel" last Friday. Picture: Caitlyn McLean (Mdme. Gothel) learns an important lesson about making friends and not bullying others from MCT actor Peter Kane (Frenchy).
By Tim Kalinowski
Schuler School students entertained the entire community with their play "Rapunzel" last Friday. The students put on two performances of the musical comedy, a matinee and a dinner theatre.
The play was produced by the ever popular Missoula Children's Theater (MCT), which is familiar to many rural schools throughout the prairies. They bring scripts, props, costumes, make-up, lighting and the musical score with them. But it is up to local students and community volunteers to carry off the play successfully.
MCT's touring company, (which consisted of professional theatre actors Peter and Sarah Kane in this instance), arrived in Schuler last Monday and stayed with the Herrmann family. Over the next four days of intensive rehearsal, MCT worked with students to help them learn their lines and all the song and dance routines for the play.
Rapunzel was played by two local actresses: Carathy Driediger and Emily Becker. The handsome, but directionally challenged, Prince was also played by two different actors: Skyler Weisgerber and Darcy Newby. The imposing Madame Gothel, who acted as the villain of the piece, was performed by Caitlyn McLean.
MCT's own Peter Kane took on the significant role of Frenchy who was as a sort of onstage narrator and director to help the kids remember their lines and keep the play's story moving.
Betty Kirschenman acted as the accompanist and did a fabulous job.
Schuler School Principal Jason Duchscherer said his staff was more than happy to let all the performers out of class this week to bring MCT's "Rapunzel" alive on stage.
"It allows the students to have opportunity to be part of a full theatre production. Within one week they learn their roles, their lines, their make-up, costumes. There were some break-out sessions to help enrich the learning in each of those areas as well. I don't think there is any other way we could offer that to our students besides through Missoula Children's Theater," said Duchscherer.