Crossing arms in place to improve safety
Posted on February 2, 2016 by 40 Mile Commentator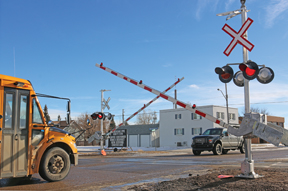 PHOTO BY JAMIE RIEGER - Crossing arms have been installed at the Centre Street crossing in Bow Island. The Town had been lobbying to have the arms put in for more than four years.
By Jamie Rieger
More than four years after the Town of Bow Island began working on having crossing arms installed at the railway crossing on Centre Street, the safety devices have finally been put in place by CP Rail.
Mayor Gordon Reynolds, who has been strongly advocating for the crossing arms, said, "It has been quite a process and now maybe we can start lobbying for crossing arms at the other crossing. Hopefully, this will prevent people from taking risks and is it another reminder to motorists to watch for trains."
The total estimated cost of installing the crossing arms, as of October, 2014 was $318,000, with the Town of Bow Island contributing 12.5 percent, or $43,000, which had been added to the Capital budget.
In addition, the Town will contribute $7,500 annually towards a maintenance fee.
"I am glad to see them in. I hope this makes our town safer," he said.
The lights at the Centre Street crossing were installed in 2000.