SE Alberta Rural Crime Watch looking for new members
Posted on February 2, 2016 by 40 Mile Commentator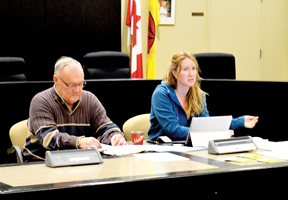 PHOTO BY TIM KALINOWSKI- Southeast Rural Crime Watch Association is looking for new members and volunteers to help with its mission to prevent rural crime in Cypress County. Pictured: President Des Grant and Sec./Treas. Shannon Pakula at recent AGM.
By Tim Kalinowski
South East Alberta Rural Crime Watch Association is looking for new members and new energy to help confront the problem of rural crime in Cypress County. Active membership has diminished over the years, but not the need says local chapter president Des Grant.
"It's scary right now," says Grant. "The problem of rural crime is so serious and it's so prevalent across the province. It's a very very serious situation we find ourselves in. South East Alberta Rural Crime Watch is here to help stop some of these crimes and help the RCMP catch those responsible for them. Crime doesn't go away."
"We all have to work together to prevent crime from happening," agrees SE Alberta Rural Crime Watch secretary/ treasurer Shannon Pakula.  "If I see my neighbour's not home, and I see someone's in his yard, I'm going to want to know what's going on. And I would expect my neighbour to do the same for me. I think this kind of group helps encourage that."
Grant says with the worsening economic situation in the province crime will inevitably rise, as it has in previous downturn cycles. Already rural crime watch associations close to major centres are reporting an upswing in equipment theft, break-ins in the countryside and things like gas theft. In more isolated area reports of cattle theft are also rising. Grant is concerned that with fewer active members the South East Alberta Rural Crime Watch Association will not effectively be able to fulfill its mandate.
"The need for Rural Crime Watch is just as strong as ever," states Grant. "The Rural Crime Watch model works very well. It is something the average person can be involved in. People can band together to be more involved with the RCMP and among themselves. It's a way for everyday citizens to help out to make sure everyone is protected."
Pakula lists some of the biggest challenges rural crime watch is facing at the moment.
"Some of the challenges would be that a lot of areas are more secluded so there are less people to keep an eye on things," explains Pakula. "The possibilities for things to disappear in an old farmyard or an area that is used for storage of equipment and nobody lives there; this way you have neighbours in the area that do live there and they can keep an eye on things. So one of the biggest challenges is making people aware that our organization exists, and as people band together there is definitely more coverage and more awareness."
South East Alberta Rural Crime Watch Association is much more than just individuals sitting at home keeping a paranoid eye out their window blinds, says Grant. Through its major casino fundraiser it contributes to the strength of rural Cypress County as a whole.
"We have been very fortunate in having the casino," states Grant. "And the organizations that benefit from us having the casino are many. We are always there to help if we can. We are part of the community, and it goes beyond just watching out for crime. We are much more."
SE Rural Crime Watch contributes thousands of dollars to individual organizations like HALO, the RCMP's DARE program, which helps reach out to school kids, the Cypress County Fire Department, Southeast Alberta Search and Rescue and toward local schools to help fund Farm Safety Week. They also forked out $9,000 to help pay for the electronic sign the RCMP now uses in the county to control traffic speeds.
"We are always looking for new volunteers for our casino and other initiatives," says Pakula, who is one of the younger members of the organization. "I first became involved in Rural Crime Watch through my dad. It's a cause I believe in. And I feel this organization is very beneficial to our rural community."
For more information on volunteering for the South East Alberta Rural Crime Watch Association call Des Grant at 403-526-6457 or Shannon Pakula at 403-502-6591. The organization can also be found on Facebook.