Tremendous community support for Burdett School
Posted on February 9, 2016 by 40 Mile Commentator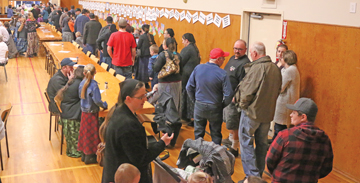 PHOTO BY JAMIE RIEGER - The community came out in droves to show their support for Burdett last Thursday evening when approximately 440 people were served dinner at the school's annual supper and auction.
By Jamie Rieger
The students of Burdett School will benefit greatly from the tremendous support that turned out for the school's annual supper and auction. In fact, people were lined up out the door as the meal was being served and were still queued up as the first group of diners finished their meal and vacated their seats to make room for the late arrivals.
According the kitchen figures for the event, approximately 440 showed up for the supper and to show their support for Burdett School.
The event raises money to help pay for school field trips and special presentations that enhance the students' education.
Local businesses also contributed to the event. Servus Credit Union donated $565 toward the purchase of the meat for the meal, Foremost Agencies donated $200 toward the purchase of hashbrowns and salad, HTK Welding donated $100 toward the purchase of ice cream, and Viterra donated the beans used to make baked bean dishes.
"We are also tremendously blessed to have a supportive school family. All the buns and dessert items were donated by our families and many of our parents were involved in the cooking or the clean-up," said Amber Pinchin.
Organizers expect the total profit from the fundraiser to be in the neighbourhood of $11,500, with $1,500-$2,000 from the supper alone. Also, the live auction raised $6,400; the silent auction, $2,600; the fish pond, $140; and the kids' raffle, $93.