Redcliff holds recruitment night at Parkside School
Posted on April 26, 2016 by 40 Mile Commentator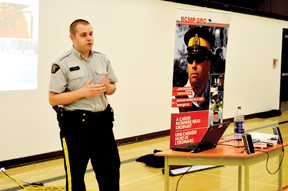 PHOTO BY TIM KALINOWSKI- Cst. Mitch Simmons facilitated the RCMP's recruitment night at Parkside School last Thursday. Simmons said the RCMP is a good choice for someone looking for a "recession-proof" career change.
By Tim Kalinowski
The Redcliff RCMP hosted an RCMP recruitment night at Parkside School on Thursday. Outreach officer Cst. Mitch Simmons led the session, but also had S-Sgt. Sean Maxwell and Sgt. Chris Zanidean on hand to speak about their own experiences for potential recruits. The RCMP is hiring right now, said Simmons, and there were lots of opportunities for those looking for a career change to enter the Force.
"The career opportunities we do have in the RCMP are kind of open to everybody with various backgrounds," said Simmons. "We do have a lot of people coming from the oil and gas industry. A $250,000 a year job is nice when it is there, but it's not about stability and pension. And that's something we do offer."
He went on to say, "Policing is pretty recession proof. And we definitely need more people when we are in a recession. So absolutely people should be thinking about joining the RCMP."
Simmons said there is no "ideal" candidate to join the RCMP, as long as the person is of good character and can pass a health and fitness exam.
"That's why our basic requirements are what they are, a high school diploma, because we don't want to pigeon-hole people so they just have to have two a year criminal justice component, or they need that or they need that. If somebody, say, comes to us with multiple different languages, it's an asset."
Simmons also said, unlike many professions, the RCMP was looking to hire more mature candidates, people in their late 20s, 30s, 40s, because the Force valued life experience and education in its recruits. S-Sgt. Maxwell elaborated on this point in the question and answer session at the end of the evening.
"Our officers are engineers, lawyers, teachers," he said. "Some people come directly from high school and some people come to us with their power engineering certificate. Sometimes people start out in a certain career and then realize it's not for them. They come to us… I have heard of those who have raised their entire families, and when their kids have grown up, they come to us. It's an opportunity they never had, for whatever reason, 20 or 30 years earlier."
Carmen Derkson was one interested potential recruit who came all the way from Lethbridge to sit in on the session in Redcliff. She said she was really assured by what she heard in the presentation, especially being a woman in her 30s with kids.
"Because I am a mom, it's just something that is incredibly difficult for me," she confided. "I need to balance what they would need with my kids' needs. It was very encouraging for me to hear they were willing to work with me, if they think I am the right person, to do that."
Derkson said she wanted to become a police officer to help people and put her academic skills to use in a practical way with the RCMP.
"I have been going through a transition; personally as well as I have really started to question what it is I was doing with my life. I come from academia. I loved academia and put everything I could into it for a lot of years. But I found I really wanted to apply my investigative skills, which I have also been trained in at academia in a certain way. I am interested in that, and I am interested in helping people, especially kids, in difficult situations… They (Simmons, Maxwell and Zanidean) did a great job promoting the RCMP."
The Redcliff RCMP will likely hold its next local recruitment session in the fall.