Harnessing the sun's power in the classroom
Posted on May 10, 2016 by 40 Mile Commentator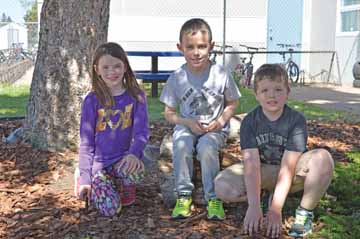 PHOTO BY TIM KALINOWSKI- I.F. Cox School has four outdoor classroom for which they are hoping to raise funds to install an automatic solar-powered water system.
By Tim Kalinowski
Outdoor education is important part of creating well-rounded kids, says I.F. Cox  Grade 3 teacher Candace Robins
"I think our first outdoor classroom started maybe even as far back as seven years ago. We started with one and slowly raised money and got the parent council on board to build one for each grade level. It's an excellent way for the students to connect with nature alongside some more of the traditional things we do at school. It's a way we can blend nature into our curriculum."
Glen Nixdorf, the school's Junior Kindergarten teacher, couldn't agree more.
"It's hands-on, emergent, authentic learning, and in the classroom it gives them a sense of ownership over their own learning," he says. "When we go outside we find out what the students are interested in and then we are facilitators to that learning. So, for example, we got outside and the kids are interested in, say, a certain kind of mud, then we start researching that."
One of the things students at all grade levels have an interest in doing more of is actually growing things in a garden. But up until now, there has been a problem: No one to water the gardens through the summer months. Students and staff may have come up with a solution. A solar powered watering system which turns on by itself on sunnier days and shuts down on cloudier ones.
"What we would like to invest in," explains I.F. Cox principal Melissa Gogolinski. "It's a solar powered pump. The more sunshine there is the more water it sends out. The less sunshine the less water it sends out, all automatically. So the students' gardens will essentially be watering themselves for the summer."
Such a system would not only meet the school's outdoor classroom watering needs, it would teach other important lessons too.
"It will bring an awareness of the importance of conserving water and the use of solar: So conservation and the use of sustainable energy. But also the value of watching these plants grow," says Gogolinski.
Teachers at I.F. Cox have asked the students to help come up with a plan as to how the system will operate. The students were concerned about water conservation so they suggested that the system use rain barrels instead of direct tie-ins to the school's plumbing.
"In the future we'll have less water if we use too much today," says Grade 3 student Choice Stevenson. "When we take care of the plants, it can make our outdoor learning space beautiful. And with the rain barrels we could pump water into the plants so they don't go bad."
With that decided, the Grade 3s challenged the Grade 2s to come up with the best rain barrel materials for the system.
"First they came up with a list of options," explains Grade 2 teacher Danielle Burton. "Originally we had about eight different types of materials on their first list. Then we talked about what an ideal container would have and created a list of needs. They then eliminated some of their options and got it down to the final four, and then we tested them. We filled the containers with water and then we left them for a few days and then we came back to see what would happen."
The students, in the end, chose plastic because it didn't absorb the water, had less evaporation and left no rust. Burton thinks its fantastic the whole school has gotten in on the sprinkler project.
"I think in order for the kids to really take ownership and appreciate and feel that sense of importance, it's nice when it's a whole school project," she says.
The only problem now is getting the funds together to pay for the eight rain barrels and the solar pump systems attached to each of them. The school estimates the cost will be $5,000-$8,000 by the time it is all said and done. To find the money, they are planning to hold a community fundraiser at 7 p.m. on May 27 at the Baden Powell Centre.
"One of our parents, Tim Herman, and two others in his band are going to be playing for us," says Ms. Gogolinski. "There will be snacks and a silent auction. We hope many in the community will come out and support us."
Tickets are available for purchase at the school during school hours.