Sandy Point Park home to solitude, beauty, and mystery
Posted on May 31, 2016 by 40 Mile Commentator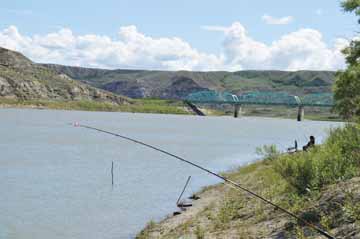 Photo by Tim Kalinowski- Great fishing is one of the main reasons why anglers seek out Sandy Point.
By Tim Kalinowski
Sandy Point campground exists at the northern most reaches of Cypress County. The South Saskatchewan flows by, and the bright green bridge spanning the point adds another beautiful and dramatic aspect to an already dramatic and ancient landscape. Dinosaur fossils are routinely found within jagged peaks surrounding the park, and wildlife, including diverse fish species, a multitude of birds, (and even the odd rattlesnake), lives in close proximity to the campground.
Sandy Point, which lacks powered sites or other modern conveniences, does not draw in your average weekend camper. Those who come to Sandy Point relish the solitude, the simplicity and the closeness of nature.
Curtis Richter, director of public works for Cypress County, says despite the campground's rustic setting and minimal services, the region surrounding it never fails to make an impression on all who encounter it on the lonely stretch of Hwy. 41 between Hilda and Oyen.
"When I first saw it, I was fascinated by the rock formations on the river and the dramatic landscape around there," he recalls. "It's really kind of impressive. I love remote camping when I go camping, and I would definitely camp at Sandy Point… It's a place for people who enjoy the quiet, not the hustle and the bustle. And for those who enjoy wildlife, scenery and the water…I think a lot of people that camp at Sandy Point are probably fishermen. They like the boat launch, it's a rough boat launch, but they can stick their boat in the river there and away they go."
During the summer months Carole Klassen and her husband Les act as campground hosts at Sandy Point. The Klassens have been coming to the campground now every summer for the past 21 years.
"The very first time we came out here, we came at night," remembers Carole. "We got here about midnight, and all you could see was the lights of the (Empress) gas plant, as you came down to the bridge. And I was thinking where the heck are we? And then when you woke up in the morning, and you saw the landscape, you went like: 'Wow.' I fell in love with it right away."
Carole, who lives in Saskatoon during the rest of the year, has explored nearly every facet of the region surrounding the campground in her two decades in residence.
"I still love it as much now as I did back then," she confesses. "I would say they did a great job here of making a park, but leaving the wilderness intact."
When asked what she loves best, Carole cannot choose just one.
"The hills here are full of little pieces of dinosaur bone," she says poetically. "So if you go out and find something, you're head tells ya this is the first time anybody has seen this in maybe 75 million years. I remember one summer I concentrated on the birds, and I observed within a 5 km radius 125 different species of birds… I have also met some wonderful people, including paleontologists and archeologists. They all come here to study this area. And, of course, this is just a great place to fish. You can find Jack, Walleye, Sauger, Goldeye, Mooneye, Burbot and Sturgeon."
At Sandy Point everywhere you look in this ancient landscape invites further discovery, contemplation and enchantment.
For more information on costs and services see the Cypress County website "Visitors" page.