BREAKING: Bow Island RCMP officer involved in collision with courier truck
Posted on August 2, 2016 by 40 Mile Commentator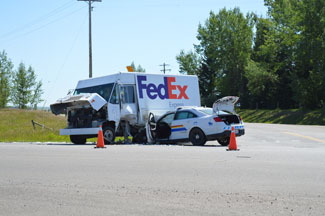 Photo by Tim Kalinowski An RCMP officer from Bow Island sustained minor injuires in a MVC with a Fed-Ex truck in Cypress County on Aug. 2. Traffic was diverted around the accident for several hours while police investigated.
Commentator/Courier
On the morning of August 2, at 8:30 a.m., an RCMP police vehicle was involved in a collision on Highway 3 in Cypress County.  The police vehicle was driving eastbound, passing Township 120.  A truck turning on to Highway 3 from Township 120 drove in front of the police vehicle, resulting in a collision. The lone occupant of the truck was not injured.
A police officer from the Bow Island RCMP Detachment sustained minor injuries and was transported the Medicine Hat Hospital where he was treated and released a short time later.
Traffic is currently being re-routed on Township 120, and Highway 3 remains open. A collision analyst from RCMP Traffic Services will be attending the scene to investigate.
If you witnessed this collision, or have any information, please contact Redcliff RCMP at (403) 548-2288.