Stampede week a gas in the Gas City!
Posted on August 2, 2016 by Tim Kalinowski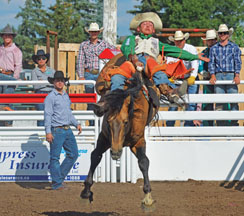 Photo by Tim Kalinowski Bareback rider Wyatt Denny was feeling the effects of gravity during his ride on Remind Me during the rodeo's opening night on July 28.
By Tim Kalinowski
Stampede week in Medicine Hat had many flocking to the Gas City to take in all the excitement and the sight and sounds the yearly rodeo and fair has to offer.
The main event kicked off on Wednesday evening, and saw legendary rockers Chilliwack, Harliquin and April Wine perform back to back on the Grandstand stage.
Thursday morning brought clear, sunny skies and a nearly 200 float parade led by Honourary Stampede Parade Marshal Bob Porter. The streets of Medicine Hat's downtown were lined with large crowds who cheered loudly for their favourite floats and spectacles.
Thursday evening was all about professional rodeo action, with an exciting line-up of star riders from across the rodeo world. John Michael Montgomery took the stage to end the night.
Friday and Saturday continued with fun midway action as families flocked to the Stampede grounds to take in the sights and sounds. Ending the week's entertainment on Saturday night was legendary country group Alabama.
All and all it was another great year for the Medicine Hat Exhibition and Stampede, with lots to do for everybody who came out.