Location set for new water treatment plant
Posted on August 16, 2016 by Jamie Rieger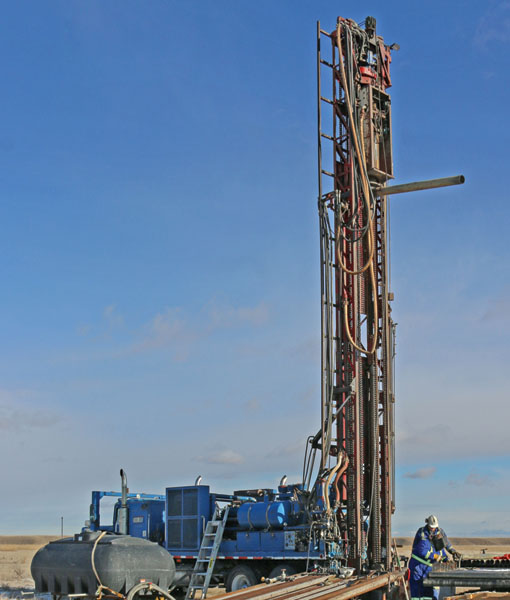 Photo by Jamie Rieger The first test wells were drilled late last year for the regional water project. Currently, the location for the eighth and final well is is being determined and the project is moving forward without much delay.
By Jamie Rieger
Progression is being made on the regional water project that will see water being piped from Foremost to Manyberries, and eventually to Skiff.
Stewart Payne, County of Forty Mile utilities officer,  met with engineers in Lethbridge last Tuesday to discuss the Foremost regional water project, a joint project between the County of Forty Mile and Village of Foremost. The placement of Well #8 was discussed at the meeting with engineers and conversions with landowners are underway.
"Routing and design of the pipeline with be discussed at our next meeting," said Payne.
Payne told county council at their Aug. 11 meeting that Well #7 is near completion with flow testing to be finished this week. Flow testing has shown that a ninth well will not need to be drilled.
Payne also indicated that delays beyond the control of the County have slowed down the progress of the project, particularly with the Foremost regional water treatment plant which is being located within the village.
Payne said they are hopeful tenders for Phase I will go out in October. Phase I includes two components; the Foremost regional water treatment plant and the pipeline for the raw water well field.
Phase II will include constructing a pipeline from   Foremost to Manyberries, with tie-ins to Nemiscam, Orion, and Etzikom.
The regional water project has the support of Alberta Environment as the water will meet standards set out for Canadian drinking water quality. Previously, water in the county contained high levels of fluoride that did not call within the federal standards.
"The whole reason for this project is to solve water problems in Manyberries, Etzikom, and Skiff," he said.
Once complete, the system will provide better water quality for Foremost and County residents, as well as better storage. Final completion date is being tentatively set for late 2017 or early 2018.