School year starts for PRSD
Posted on September 6, 2016 by 40 Mile Commentator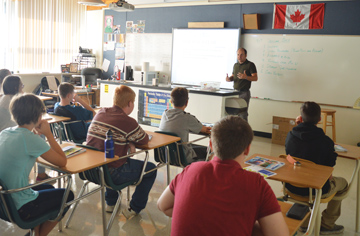 Photo by Tim Kalinowski- Students at Parkside School in Redcliff, and other schools across the Prairie Rose School Division, were back in session last Thursday. Parkside teacher, Greg Elgie speaks to the returning students on Sept. 1.
By Tim Kalinowski
Prairie Rose School Division began its fall session last Thursday. Students were keen to return to the classroom to see their old classmates and orient themselves to their surroundings. For some it meant moving up into a different classroom for others it meant moving to a different school.
Daryn Miller is principal of Parkside School in Redcliff. Parkside, being a junior high, always has a lot of new faces walking the halls as students come in from surrounding elementary schools. For many it will be their last education stop in their hometown of Redcliff before moving on to Eagle Butte for their senior years.
"Starting this week," explains Miller, "we have new Grade 6 students coming in from Margaret Wooding and elsewhere. So we work on, first of all, getting to know them in their home rooms. We're a junior high so kids get to move around a lot getting to know the school, all their teachers… They will see upward of seven teachers a day so we're orienting them… So next Tuesday (Sept. 6) when they come back from the Labour Day weekend they can get right into it."
For older students coming back to school is a time to get back in the routine of every day school life again after the summer holidays.
"They grumble a bit, but they are happy to see their friends again," confirms Miller. "And this week (Aug. 31) they only have two days of school and they are on holidays again."
For the teachers school starts three days earlier as they do their planning sessions and preparation for the busy school year ahead.
"Jokingly, we always come in and say: Where did the summer go? Was that shorter than usual? But we've all had our holidays and we are refreshed. It seems like every time we come back the weather gets warmer… No teacher complains about holidays being over; because nobody is going to be listening anyway," he says with a laugh.