Redcliff council briefs
Posted on November 22, 2016 by 40 Mile Commentator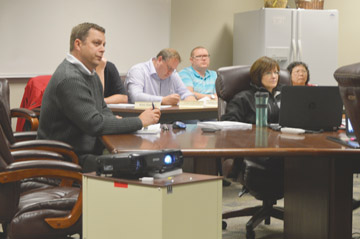 Photo by Tim Kalinowski - Redcliff's director of community and protective services, Kim Dalton, reports to council members at last Monday's town council meeting to talk about the town's new Parks and Recreation master plan.
By Tim Kalinowski
Alberta Lottery Fund habitually overlooks Redcliff
Council received a list of communities who have received funds from the Alberta Lottery Fund and, unsurprisingly, Redcliff was not well represented again.
The Alberta Lottery Fund is made up of the government's share of net revenues from video lottery terminals (VLTs), slot machines and ticket lotteries. These revenues total more than $1.5 billion each year, and are used to support thousands of volunteer, public and community-based initiatives annually.
But not in Redcliff.
Redcliff has received the lowest per capita funding in the province for a town its size since the fund's inception; only $340.98 per capita.
In contrast, High Prairie and Athabasca have received over $3,000 per capita, and the average for most communities is just above $1,000 per capita.
Parks and Recreation Master Plan moving to next phase
The Town of Redcliff tabled its second draft of its Parks and Recreation Master Plan at last Monday's meeting. The colourful document lays out in great detail where Redcliff hopes to go in the future with its recreation facilities and opportunities. The Town will hold an open house on Nov. 30 to invite the public to view the plan, and give feedback prior to the final draft's adoption by council. The open house will be at the Town Office.
Notify Me Now hopes to save lives
The Notify Me Now system is now fully up and running with its own website http://www.notifymenow.ca. Redcliff and neighbouring county residents are being reminded to get themselves registered on the site, so in the event of an emergency instant notifications can be sent to specific addresses in the direct path of a potential disaster. Registerees can list up to four separate physical addresses, and multiple means of contact, on the system. However, individual family members are asked to sign up on their own accounts, not as a family unit. The system is designed to send out notifications repeatedly until the person notified responds to confirm they have received it. If two members of a household happen to be in separate locations when the warning comes in, one might respond stopping the notifications from reaching the other person if they are on the same account.