SGS teams win Zones ahead of hosting provincials
Posted on November 22, 2016 by 40 Mile Commentator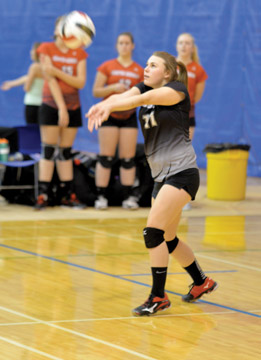 Southern Alberta Newspapers photo by Greg Price - Libero Montana Lockhart of the Senator Gershaw Gator girls volleyball team bumps the ball to the front row during the opening match play at the 1A south zone championship, held at Lethbridge College last week.
By Jamie Rieger
The Senator Gershaw 1A volleyball teams are setting the tone for this weekend's provincial championship tournament with both girls' and boys squads capturing the Zone titles in Lethbridge over the weekend.
Both boys' and girls' volleyball teams brought home gold over the weekend after winning Zones in Lethbridge with the 1A girls winning the gold medal in a 2-0 decision (25-21, 25-13) over Stirling. The Senator Gershaw boys were also named the champions  in the 1A boys final Saturday night thanks to a 2-0 (25-14, 25-12) win over Coalhurst.
Having the two teams riding high going into the provincials, the atmosphere is sure to be electric at the games being held at Senator Gershaw and Cherry Coulee Christian Academy this week and students, staff, and volunteers are busy getting ready for the 400 people expected to visit Bow Island for the championship tourney.
"Hosting 20 teams in 1A Boys and Girls Provincials will be an opportunity to showcase Senator Gershaw Schools modernized facilities and Bow Island's small town hospitality. There are many considerations when hosting a sporting event of this magnitude and there has been tremendous support from Bow Island and surrounding area. Everyone working together will make this provincials a memorable one for all involved," said SGS principal Scott Angle.
The Town of Bow Island, anticipating parking concerns, will be allowing temporary angle parking for the duration of the tournament on the south side of 1st. Ave. and the west side of Centre Street.
Community members are encouraged to come out and watch some high-level volleyball from teams all across the province.
The opening ceremony for the provincial volleyball tournament will take place on Thurs., Nov. 24 at 9:00 a.m. Following that, the Senator Gershaw girls will take on Mallaig on Court 2 at 10:15, with the boys playing Parkland Immanuel on Court 1 at 11:30. For a full listing of 1A provincial volleyball action and updates, visit the Senator Gershaw website at senatorgershaw.ca and click on the link to the tournament for further information.