Dinner theatre returns to Foremost
Posted on November 29, 2016 by 40 Mile Commentator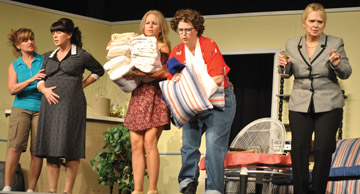 Photo by Jamie Rieger- After a four-year hiatus, dinner theatre has returned to Foremost. The Foremost Theatrical Society recently put on a performance of "The Dixie Swim Club".
By Jamie Rieger
It all starts when five teenage girls become friends through their college swim team. The people who attended last weekend's dinner theatre performance of "The Dixie Swim Club" were treated to how the girls' friendships and lives evolved over the next 33 years. The play centres around four of their annual 'girls only' vacations where they meet to catch up on life events, party, and have the odd disagreement or two along the way.
Director Gord Johnson took over as theatre society president last spring and has been pushing to revive the annual event.
"It's about five women who met in high school, on the swim team. They get together in early August every year without their husbands and kids, to talk about their lives, party, to laugh together, and to cry together," said Johnson, who co-directed the play with Clint Collin. "I believe a lot of people will be able to relate to this."
Sandy Karl (Sheree Hollinger), Janice Klatt (Lexie Richards), Cheryl Gairns (Dinah Grayson), Kerri Buis (Vernedette Simms), and Tricia Kramer (Jeri Neal McFeeley) all performed beautifully, having the audience laugh at the right moments and tear up at others.
"The Dixie Swim Club" is the first dinner theatre performance by the Foremost Theatrical Society since 2012.
"We always have enough actors, but have had problems finding directors," said Johnson.
The Foremost Theatrical Society started in 1971 and over the years, has produced many live events, starting with musicals such as "Oklahoma" and "The Sound of Music". In recent years, the productions have primarily been comedies and only dinner theatres.
Margaret MacKenzie, one of the original members, had been providing the makeup for the cast since 1971 and has only missed four plays, including the one held last weekend.
On Saturday evening, MacKenzie received accolades for her years of dedication to the theatrical society.
Johnson said the theatrical society is hoping to make the dinner theatre an annual event once again.