Farming Smarter conference more relevant than ever
Posted on December 13, 2016 by 40 Mile Commentator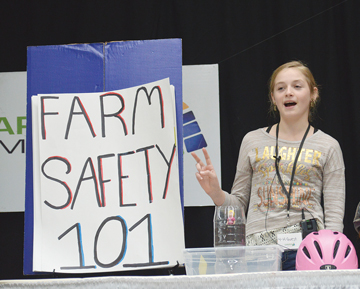 Photo by Tim Kalinowski- Local 4H member Evi Neubauer delivers a speech on farm safety to Farming Smarter delegates last Thursday at the Medicine Hat Lodge,
By Tim Kalinowski
The two-day annual Farming Smarter 2016 Conference and Trade Show in Medicine Hat wrapped up on December 7 with some interesting speakers, and a forward looking message for the future of agriculture in southern Alberta.
The highlight of the morning was a keynote address by Errol Anderson of ProMarket Wire who spent much of his speech looking around the world at the bleak debt picture most nations are experiencing. Anderson, who is originally from Irvine, was highly critical of the role central bankers have had in perpetuating a downward cycle in the marketplace by artificially inflating economies instead of letting them recess naturally these past eight years. Anderson predicted a reckoning was coming.
"There is no sense denying what is going on in these financial markets right now," he said. "We are at the end of an 80 year capitalistic cycle that has already been prolonged ten years by central bank manipulation. It has to be refreshed."
One of the best speakers on the day, with arguably the most interesting presentation, was University of Missouri professor Jack Schultz. Schultz used his time to speak about how plants communicate with one another, and sometimes with human beings, through smells and tastes.
"How many of us are running on coffee?" asked Schultz in his introductory remarks. "How many of us start the day with coffee? Why is that? Why would a coffee plant make something which wakes you up? It doesn't do anything for (the plant's) photosynthesis. It's not a growth regulator. It doesn't do anything specific in the daily life of the plant. So why does it make this stuff? It isn't to wake you up; it's an insecticide… It just so happens caffeine looks like the signal your system uses to keep you awake… But why would the plant make that? The truth is caffeine, and all its relatives, is a fungicide, a microbialcide and an insecticide. Plants play these kinds of tricks on us all the time."
Later in the day a special presentation took place. The Orville Yanke Award, (established by the family of the Medicine Hat area farmer who did so much to get Farming Smarter off the ground), was given to farm activist and no-till pioneer Ike Lanier. Lanier is co-owner of Neveridle Farms just south of Lethbridge. He was one of the original farmers arrested and jailed for defying the Canadian Wheat Board monopoly in the 1990s. He was later pardoned by the Harper government.
Lanier gave a moving address about his pride in seeing no-till agriculture become the established norm in farming community, but also showed he still had some fire in his belly on the political side of the equation as well.
"Thank you for this honour, and I accept it humbly and with gratitude on  behalf of so many other farmers who love the land," said Lanier. "The land has been transformed completely and irreversibly. The winds that blew thick with dust have cleared, and the damage to the land has now ceased, and the wounds inflicted by past misuse are healed…
"The demise of the Canadian Wheat Board," he continued. "has opened our eyes to allow new opportunities, but also some new responsibilities. How do we respond to shifting demands through market forces through consumer demand and policy makers who are disconnected from the land? I have always been skeptical of that old adage: The customer is always right. I would be happy with sometimes, or often."
One other notable highlight of the afternoon was the wonderful presentation by local farm girl, and 4-H member, Evi Neubauer on farm safety. It was well-received by audience members, and Evi did a fantastic job on the public speaking side of things.
All in all, Farming Smarter was an interesting, informative and timely conference, which looked at many of the issues relevant to prairie farmers today.