Christmas Day fire destroys Orion business
Posted on December 27, 2016 by 40 Mile Commentator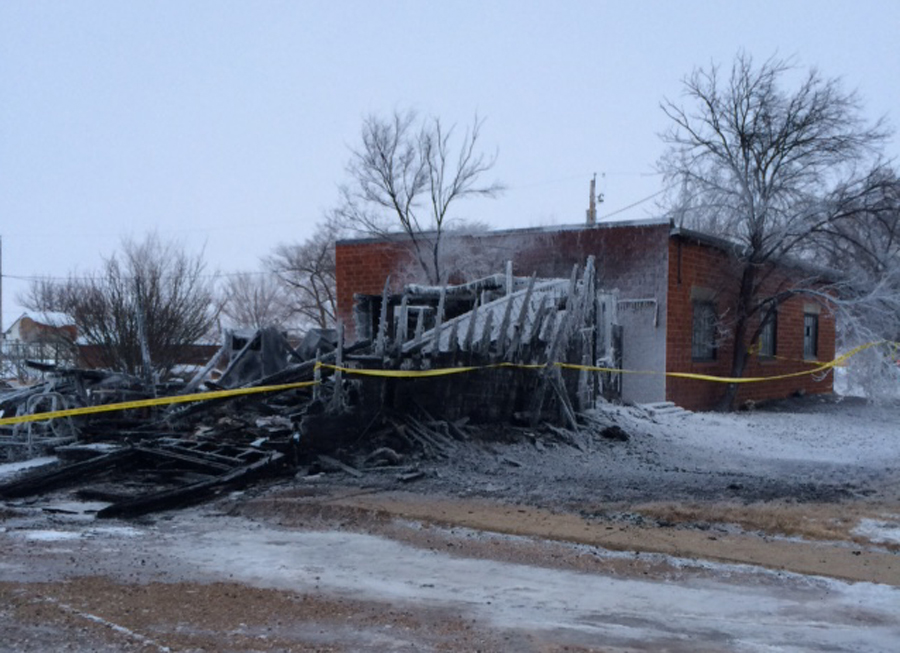 Submitted photo- Stevens Hardware and Garage in Orion was gutted by a fire that erupted on Christmas morning. Owner, Boyd Stevens is receiving care in a Calgary hospital.
By Jamie Rieger
Orion was dealt a harsh blow when a fire on Christmas Day has destroyed an Orion business and left a beloved resident recovering in a  Calgary hospital.
The fire, which erupted on Christmas morning as church service was about to get underway, engulfed the iconic Stevens Hardware and Garage, quickly destroying the historic structure.
"Every man in the church left to go to the fire," said Brenda Heidinger.
According to family, Boyd Stevens, owner of the business, is in a hospital in Calgary and asked that no further information about his condition be released at this time.
Nephew Mark Schlinker said that the family were not contacted about Stevens or where he was being transported until hours after the incident.
"Nobody contacted the immediate family and nobody could tell my mom where he was," said Schlinker, who learned about the fire on social media. "We never got a call from anybody. I found out through social media long before the family was contacted."
"Somebody dropped the ball, not sure who, but this can not happen again. It was the wrong way for the family to find out. I am not pinning this on anybody, but this needs to be looked at."
The building that housed Stevens Hardware and Garage was originally a schoolhouse, located approximately four miles west of Manyberries, along Highway 61 and was built circa 1910. It is reported that the building was transported to Orion by Howard Stevens (Boyd's father) to be used as for the family business.
No official word has yet been received about the cause of the fire, but the Commentator will provide that information when it is made public.