Bantams collects 78 bears for Joy of Giving
Posted on January 10, 2017 by 40 Mile Commentator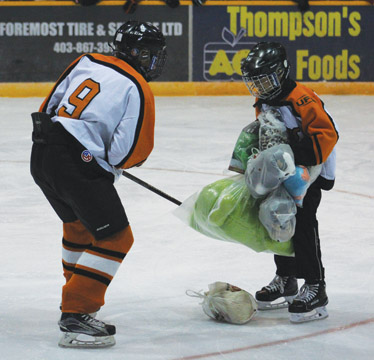 Submitted by: Penny Pahl
It was one of the coldest nights of the season, but the hearts of the players and fans at the Foremost Rink on December 10th were as warm as can be. The Foremost/Bow Island Bantam team held a Teddy Bear Toss at the newly renovated Foremost Arena and the generosity of the community was tremendous.
It only took a few minutes for the home team to score in the opposition's net which was the cue for the fans to "toss" the bears onto the ice. It was flooded with bears and the Atom team burst onto the ice to assist with the collection. A total of 78 bears were donated to the Foremost Community Christmas Hampers and the Joy of Giving. These bears will be given to local children just in time for Christmas when a cuddle from a teddy bear will bring smiles to many faces.
Laurie Haynes and Corinna Roth-Beacome, who represent the above foundations, were on hand to support the cause. The players enjoyed giving back to the community and they would like to Thank everyone who braved the cold and showed their support.
Photo's Attached
1 – Blayze Uchikura assists Ryker Hollingsworth with the collection of the bears off the ice.
2 – The Foremost/Bow Island Bantam players and coaches pose with Laurie Haynes and Corinna Roth-Beacome after their game.