Ford helps Medicine Hat College program
Posted on February 9, 2017 by 40 Mile Commentator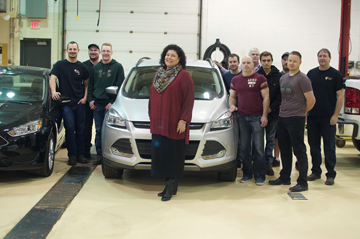 Photo by Justin Seward- Medicine Hat College president Denise Henning (centre) poses with Automotive Service Technician students in front of one of the cars donated from Ford Canada on Feb. 3. The MHC students will learn about the new technology on these 2015 models.
By Justin Seward
Medicine Hat College Automotive Service Technician students got a glimpse of the new automobiles they will be able to enhance their skills on before going out into the work force during a gift presentation at the college's car garage on Feb. 3.
Ford Canada gifted the program three 2015 vehicles, including an F250, Focus and Escape from the 2015 Calgary flood because they weren't resellable.
"We really appreciate the fact that a facility like this is in a little community," said Pat Quinlan, general manager of Sun City Ford.
"It allows the opportunity to grow our businesses in a stable work  environment and to put local training in place, which helps us tremendously."
Medicine Hat College President Denise Henning said the ultimate beneficiary is the communities because if  students succeed then others  will see success as well and it's a way of showcasing the benefits of contributions and partnerships the college has.
Third-year Automotive Service Technician student Peter McCarthy said with the car gifts, it will allow for the students to see new technology such as new multi-media features and the newer engine systems before they got out into the industry.
"We want to see different stuff when we come to school," said McCarthy.
"We don't want to see all one manufacturer. It's good to diagnose these systems, especially when our instructors have them all wired up for different faults," said McCarthy.