Canadian aviation history is made as Foremost Aerodrome enters the 'Drone Age'
Posted on February 28, 2017 by 40 Mile Commentator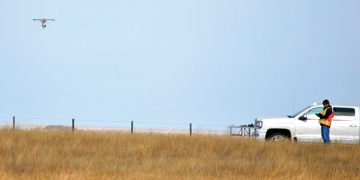 Commentator/Courier File PhotoAn Aeryon SkyRanger drone comes in for a landing, with Owen Brown, co-owner of Ventus Geosptial closely recording the data, when the Foremost UAS Range launched the first Beyond Visual Line of Sight test flight of a UAS in Canada on Friday afternoon. The flight was also the first of its kind to be approved by Transport Canada.
By Jamie Rieger
History was made in Foremost on Friday when the first Beyond Visual Line of Sight (BVLOS) flight in the country was launched at the Foremost UAS (Unmanned Aircraft Systems) range.
"Today is the first opportunity for UVAs to fly legally in Canada Beyond Line of Sight. It is the first time in the country for civil and commercial uses under the approval of Transport Canada," said range manager, Doug Hanna.
It was eight years and five months ago when Sterling Cripps, then COO of the Canadian Centre for Unmanned Vehicle Systems (CCUVS) first thought of having a test range in southern Alberta and thought the open spaces, topography, and low population numbers in the Foremost area would be an ideal location.
"Sterling met with us when he first got the idea and he saw it as an opportunity to have a test range here. He felt the area here fit well with what he was looking for," said Foremost mayor Ken Kultgen.
Recognizing that unmanned vehicles would become a sought-after tool for many industries, including agriculture, forestry, and pipeline industries, as well as for emergency services, particularly with search and rescue operations. CCUVS, the Village of Foremost, Transport Canada, and NAV Canada were soon embarking on planning and development of the test range.
The Village, with funding from the provincial government, conducted a feasibility study and developed an airspace change proposal that was submitted to Transport Canada.  In November, 2014, they received the official designation and final approvals were received in November, 2016.
The first drone to be launched on Friday was an Aeryon SkyRanger, that was tested by Ventus Geospatial from Lethbridge/Calgary, working in conjunction with Cripps' company Canadian Unmanned Inc. Co-owner Owen Brown who is from Foremost said the launching was a proud moment for him.
"This has been a great opportunities to have this flight test back home. We have been working closely with CCUVS and are very grateful and blessed," said Brown, adding that the test flight was just one step of many the company will be taking as they progress. "This is the first step of many we will have to take."
Ventus Geospatial is the first company to meet the strict criteria required to fly a UAS under BVLOS conditions at Foremost.
"This is a big moment in history," said Stephen Myshak, who co-owns Ventus Geospatial with Brown.
They also held a test flight of fixed-wing Braemer UAV on Friday.
Friday's even marked the first BVLOS flight approved by Transport Canada anywhere in the country.
Cypress-Medicine Hat MLA Drew Barnes attended the event.
"This provides world-class opportunities to this area and all Albertans should be proud. Hats off to the people of Foremost and the County of Forty Mile for their diligence in making this a success," said Barnes.
Kultgen noted that they have received numerous calls from companies interested in conducting BVLOS test flights at the Foremost facility.