Feature from our Spring Ag. section: Decades of dedication to Ag. causes for Pahl
Posted on March 14, 2017 by 40 Mile Commentator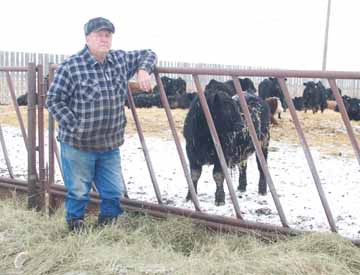 Photo by Justin Seward- LeRay Pahl, who with his family, runs a cattle operation west of Redcliff, has been involved with many agriculture-related organizations, including 4H and the Medicine Hat Exhibition and Stampede. Pahl is also a councilor for Cypress County.
By Justin Seward
Pahl Livestock has been around the western part of Cypress County since 1965 when owner Leray Pahl and his father Gilf started the cattle operation. Over the years the operation has grown to 300 Hereford and Angus cows registered and 350 commercial cows, totaling 750 female bred cows annually. The family-owned business is run by Pahl, his wife JoAnn and their sons Dan, Scott, and Steve when an extra hand is needed.
"It's extremely important," said Leray.
"You can't do it without them because the kids take that extra little bit of pride in whatever they're doing. I don't know if I'd still be here if it weren't for the kids. I have no intentions of retiring." The family has been very community-minded agriculturally and  were awarded for their efforts.  JoAnn won Cypress County's "Citizen of the Year" award in 1995, while Leray co-founded the Medicine Hat Community Foundation. He has been involved with the Medicine Hat Exhibition and Stampede for 30 years, starting as an associate director and working his way up to president. Pahl also continues to make contributions for 4-H.
For the local 4-H clubs, he would phone businesses around town to buy cattle for the clubs and has yet to be turned down as a buyer and for that he was recently awarded the inaugural Lifetime achievement award by 4-H.
"That was unbelievable, all these little kids were smiling and pleased as punching," said LeRay.
"They presented this beautiful gun to me. It was really special. It's great for them and some of these kids can generate enough money over 10 to 12 years for their college education."
He mentioned the most effective strategy he has seen kids come out of 4-H with is ways of coping because they have seen deaths on ranches and farms. It also gives the kids a sense of responsibility with money and chores.
Shifting gears to the stampede, Leray had great memories of when he first started prior to 1972 as an associate director.
One of his first duties was with JoAnn's father, who was a director at the time, and they would go with a measuring tape and stakes to mark out the whole  yard for parking because there was no pavement or lines and those were the guides for parked cars. He also operated one of the gates where the cowboys and horses came out and later ran the Chuckwagons after his father at the old stampede grounds. He had seen a significant amount of progression compared to when he first began.
"It's a huge operation," said Leray. "We go through a tremendous amount of different types of functions out there. We have over  500 volunteers that at any one time you could put 100 of them on the floor just by making a quick phone call. In that regard it's an unbelievable organization."
Other highlights included the revamping of Pioneer Village and winning the Emerson Porter memorial award for chariot racing.
Scott said while being involved agriculture wasn't a lifelong dream, it was a cool experience jumping right into it.
"That's something that was installed in us pretty early," he said.
"It's something we're very proud of.  You give back a little bit too if you have the ability to do it and try to make things better for the kids moving forward."
The most important thing learned in a ranching family is that hard work pays off and realize you have to sustain the ups and downs in agriculture.