Redcliff's 103-year-old church gets repairs
Posted on April 4, 2017 by 40 Mile Commentator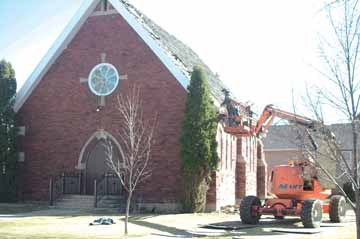 Photo by Justin Seward - Workers from Plato's Superior Roofing began the shingle replacement on St. Ambrose Anglican Church in Redcliff on March 30.
By Justin Seward
The 103-year-old St. Ambrose Anglican Church in Redcliff is the only provincially registered historical resource in the town and like any building that ancient, it comes with it's wears and tears. Now after 20 years of aging and weathering, the roof replacement commenced last week with the shingles being replaced.
"It preserves it," said Cliff Dacre, historian for the church. "That's exactly what the Historical Resources Foundation  is doing and that's why they register these buildings as provincial historical resources, is to keep the history and the architecture and the style of building." Dacre said it's unfortunate in the Redcliff area that a lot of the historical buildings in operable condition have been torn down. However, with this still standing structure, it gives the community pride because the citizens can be proud of a historical venue that has been around since the town was formed in 1912.
"I think it gives the people that go around here to point out 'well this is a nice church,' and we've had that comment quite often," said Dacre.
"We brag about it and show it off. I would suspect if this wasn't done this year, it would really look terrible on there. The fortunate thing is if you're looking at the church on the north side the roof looks good but on the south side it looks terrible because of the sun deteriorating it that much more."
South region Alberta Heritage Conservation advisor Fraser Shaw said through the Heritage Resource Management Information System (HeRMIS) website that the  "heritage value lies in its architectural significance."  According to the website, it is an excellent example of the Gothic Revival style and is an example of early brick production in Redcliff's town history.
"We're hoping the roof will last at least 30 years ," said Shaw.
"I think it's a great project.  It'll protect the church for the future and also have a real positive impact on its appearance and integrity."
The roof renovation is being funded by the congregation. Other  repairs in the past  have included  a new door, floor stabilization while in the future the plan is to balance the wall because sections are have been held together  by medal pins for the last five to 10 years.