Vital HALO service 'hanging by a thread'
Posted on April 11, 2017 by 40 Mile Commentator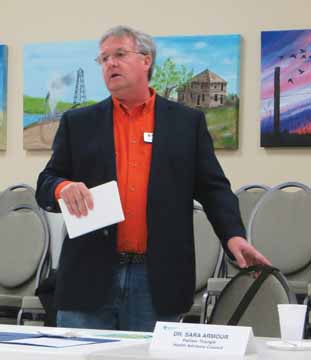 Photo by Marj Moncrieff- HALO executive director Dale Thacker, along with Bow Island mayor Gordon Reynolds addressed the Palliser Health Advisory Council at last week's meeting about the vital service it provides to the people of southeast Alberta and the lack of support it receives from the province.
By Gillian Slade
Southern Alberta Newspapers
The local helicopter ambulance service is "hanging by a thread," 10 years after its inception. It is under-utilized even though it can operate more cheaply than a ground ambulance, says HALO.
Of the 80 times HALO crews were on standby in readiness to respond to an emergency, they were only launched 24 times, executive director Dale Thacker told the Palliser Triangle Health Advisory Council Monday in Bow Island. HALO is often waiting for a ground ambulance to reach the scene and then determine whether a helicopter is necessary.
Once HALO is on standby, a paramedic from the hospital is already at the airport waiting with the HALO pilot anyway, and it makes sense to use it more frequently, said Thacker.
An Alberta Health Services requirement for emergency medical responders to be qualified paramedics will affect many volunteers in local communities. Some may be willing to retrain but others will simply walk away from the position, Bow Island Mayor Gordon Reynolds says.
HALO is able to fly in to a community with a paramedic on board and that is an obvious solution, said Thacker, as AHS can't afford to replace all emergency volunteers with paid paramedics.
Thacker mentioned HALO is only able to operate under visual flight rules (VFR) and only in daylight using its single engine helicopter.
STARS air ambulance, twin engine helicopters, operating out of Calgary, can reach this area of the province but Thacker says it simply takes too long, about 1 hour 15 minutes.
"It is not even close to being acceptable," said Thacker.
HALO has a budget of $1 million a year and would like Alberta Health to contribute $700,000 toward that. It is a conversation that has been taking place for years without much progress.
"We seem to run into a wall," said Thacker.
Blake Pedersen, PTHAC member and former MLA, suggested presenting a cost benefit analysis and a business case study to make the case for government funding.
While HALO pays its pilots, the organization is largely run by volunteers and is dependent on donations from individuals, businesses and other organizations. It is a challenge to do the study and analysis when dependent on volunteers but they are making headway in that direction, said Thacker.
Medicine Hat Regional Hospital's new wing includes a helipad on the roof, which Thacker called a "powerful tool" for AHS.
"The helipad changes all the rules," said Thacker, noting there will no longer be any need to transfer a patient to a ground ambulance at the airport in order to reach the hospital.
A fixed-wing air ambulance operates out of Medicine Hat and is government funded.