Redcliff's first ever Community Foods Kitchen cooking up a storm
Posted on May 2, 2017 by 40 Mile Commentator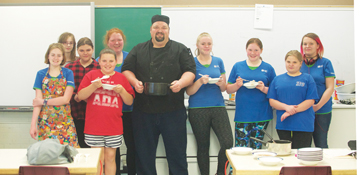 Photo by Justin Seward - Chef Mike Graham (centre) taught the Girl Guides of Canada's Pathfinders how to cook easy meals during the first Community Foods Kitchen class at Parkside School on Apr. 27.
By Justin Seward
Redcliff kicked-off their inaugural Community Foods Kitchen on April 27 in effort to help local residents learn how to cook simple meals at a low costs to bring home to eat. Local  Red Seal chef Mike Graham was hired on by Community Food Kitchen to teach people how to cook and this is the first time he has worked with this type of caliber of cooks.
"This is a new avenue for me in my cooking," said Graham.  " This is really neat to me to show people how take something simple and make it really good."
Graham added that with the Girl Guides of Canada Pathfinders being the first group to try their hands at cooking meals that he wanted to make sure he taught the kids about the safeties of meal preparation at home and being able to make meals for their parents without opening up a box of macaroni and cheese.
"Most of the stuff we're making is from scratch and I'm teaching them how to make different things," he said.
"Tonight we're going to make two soups and a meal. They do a lot of camping, so some of the stuff I'm showing them is how to make stuff to carry in their backpack."
The food won't be the same at each as it will depend who signs up. Community Foods Kitchen is  for anyone and is free with a $20 refundable deposit.
The classes are held at the Parkside School kitchen from 6 p.m.- 8 p.m. with next sessions being at the  end of May and June with dates yet to be determined.
People can sign-up through the Town of Redcliff or with Graham at (403) 528-7792 or (403) 504-7507.