Tiki food huts help those in need in Redcliff
Posted on May 23, 2017 by 40 Mile Commentator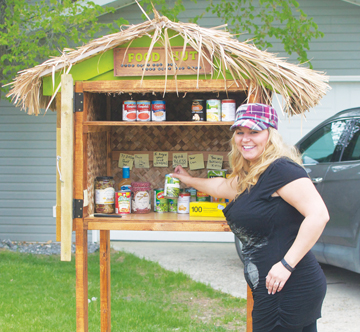 Photo by Justin Seward - Redcliff Tiki Food Hut co-founder JoDana Tokamp has seen a lot of success in the project since it started in February.
By Justin Seward
Redcliff residents JoDana Tokamp and her husband Dustin Tizzard were having a long thought out  process as to how they could give back to the Redcliff community at a low cost.
In February, the owners of Bamboo Innovations in Medicine Hat, came up with the  creative idea of a community food exchange by building  a Tiki Food Hut on their front lawn where food can be dropped off and picked up as people stop by.
"As soon as we did our very first one, it just exploded," said Tokamp.
"Sometimes when you're between seasonal jobs or between things that they might not qualify for at  the food bank. If it's choosing between feeding your children or possibly losing your vehicle, this kind of helps those people in the middle range to get to the next phase that they need to."
The food  includes anything from fresh and canned vegetables to dry goods  and toiletries, while refrigerated and frozen items will be stored in Tokamp's garage.
"Whenever someone has an abundance in one hut over another, we always share and move the food around to make sure that people who might now have means to get  to another hut then each hut is full of food," said Tokamp.
The focus in the future will be to expand the food huts to  more southeast Alberta communities and into southwest Saskatchewan.
The food huts  are located at Lions Park, Redcliff Youth Centre,  near the Riverview Golf Course and at 221 Sixth St. SE.  More information can be found on the 'Tiki Food Huts' Facebook page.