BATUS trains for inferno situations
Posted on May 30, 2017 by 40 Mile Commentator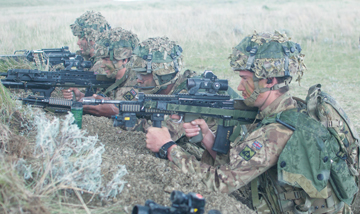 Photo by Justin Seward - Missiles were fired, big guns fired with accuracy, and BATUS soldiers prepared to blow up a bridge before the enemy crossed as part of the Prairie Storm 1 live-fire exercise on May 19 when the media were invited to have a glimpse of what the British Army does during their training exercises.
By Justin Seward
Many British Army Training Unit Suffield (BATUS) soldiers were hard at work  during the  Prairie Storm 1 live-fire training at CFB Suffield on May 19 in preparation for when they go back to Britain to get deployed for duty.
Prairie Storm 1 is a part of a four-part, three-day live-fire exercise series that runs for 30 days and displays an all manner of combined arms activities, which  enables defensive and offensive actions.
The day included air defense missiles being fired, heavy howitzers with 155mm caliber that were fired for the first time in a direct role, while there were tanks shooting off live ammunition all across the prairie.
BATUS Col. Marcus Evans said the exercises were very complex and challenging but a close replication of war.
"It allows us to maneuver in a realistic way," said Evans.
"Today, the tactics we're trying are relatively new. We're trying to replicate what we know that threat nations can achieve. We've got a full spectrum of  threat, so not just what you can physically see but the electronic spectrum as well. We're also trying to push the combination of arms at night, so we do more fighting at night and in the urban environment so we can prepare our forces for the next conflict."
Evans knows that threat nations are closing in on their country with the capabilities they can deploy and the troops need to keep a close eye on what their enemies do in their operation.
"They're supported by hybrid threats, so in surgencies or agents," said Evans.
"We've got a lot of things to deal with but we know that we're training well. We think we're one of the best trained armies in the world alongside our NATO allies."
After the exercises are complete the soldiers will be delivered to NATO's front line in Estonia and working with the Canadians.
CFB Suffield's Lt. Col. John Scott said although the Prairie Storm 1 is a British ran exercise, the Canadian Armed Forces play an important role in preparing BATUS in the field because they are the ones who provide the proper firefighting equipment to the BATUS vehicles for those soldiers to stay safe in, while transitioning them from an exercise environment into a firefighting environment.
"This is the climax at the end of the spectrum," said Scott.
"They build up to this to make sure they're safe and can work together because  in actual combat, these types of environments are so important to simulate. It's really tough to do without real bullets. In subsequent serials that we're running later this summer, we're going to have Canadian elements built in for that inoperability. That's an important aspect of BATUS and CFB Suffield is collaborating between UK and Canadian Forces."
Scott added while in discussions with the British that for training purposes they enjoy the training space available to them because you are out in this baron land and see nothing but distance.