Fire near Highway 3
Posted on July 6, 2017 by 40 Mile Commentator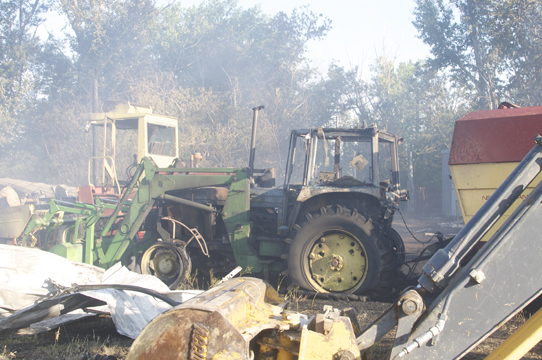 Commentator/Courier Photo Justin Seward Tractor starts blaze near Highway 3
Justin Seward
Commentator/Courier
This afternoon a fire broke out at a residence on Range Road 65 near Township Road 120. According to Cypress County deputy fire chief John McBain, the resident was  home at the time of the fire and noticed his power go out. The home owner noticed the fire and immediately called emergency services. Local fire services responded and brought the fire under control. McBain said firefighters were still dealing with hot spots at 6 p.m. He said the source of the fire was likely caused by a faulty tractor battery. There were several older vehicles burned near the home, and are now inoperable. McBain reports no one was hurt in the blaze.
Commentator/Courier Photo Justin Seward
Blaze near Highway 3 destroys antique vehicles.