County cowgirls accomplish dream
Posted on July 25, 2017 by 40 Mile Commentator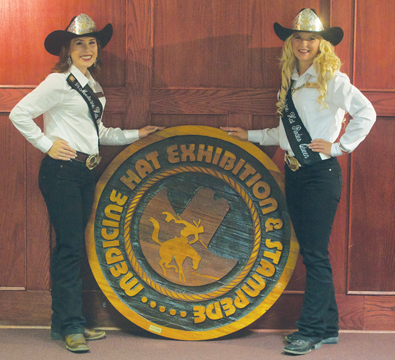 Photo By Justin Seward New Medicine Hat Exhibition and Stampede princess Ava Padfield and queen Lacey Palichuk used their rural routes to be crowned for 2017.
By Justin Seward
The Medicine Hat Exhibition and Stampede had officially passed over the royalty reigns for 2017 to Lacey Palichuk as new Stampede queen and Ava Padfield was nominated new Stampede princess recently at the Cypress Centre Auditorium.
Both Cypress County residents were chosen out of eight girls after a week of bonding, speeches and nine areas of horsemanship competitions prior to being crowned.
"It was very surreal," said Palichuk.
"It was also bittersweet seeing all the other girls standing there. But all eight girls were amazing. So being crowned queen, it's quite an honour."
For Palichuk, she knew going in that her only competition was herself and if she put her best foot forward she would have a strong chance.
"No matter  what, I was happy with how I did during the week," said Palichuk.
"Before Saturday night (July 15), I said 'you know what I did the best I can and whatever the outcome is it is'.'"
Her speech was about how important agriculture is to her and having grown up on a ranch near Seven Persons and hearing about her mother's family ranch receiving the 100  year Family Farm plaque this year, it only motivated her to become more involved in the Stampede royalty.
"Agriculture is very dear to my heart and I've always been passionate about the western lifestyle," said Palichuk.
"We ranch and raise red angus cattle. I rode a horse before I could walk. Horses and cattle have always been a part of my life and they influence me to where I am today."
She is hoping over the next year to establish as many community relationships as possible and interacting with all ages.
Padfield said over the course of the year she had the opportunity to speak with many past royalty alumni and all of them became role models to her because they had an amazing amount of confidence and poise.
For her, to follow in their footsteps is all she could think about when she was walking down the stage.
"I knew how much I've grown just from that competition week," said Padfield.
"From Day 1 walking into Tim Hortons and talking to the public, which was a great experience talking to all different kinds of citizens from Medicine Hat and see what they do in their everyday lives. You're approaching someone without the invitation of being talked to. The conversations we had were just incredible."
Padfield's parents were originally from Winnipeg where her father was a businessman and once they moved to Dunmore, the joke was she should have been born into a farming family because of her passion for horses.
The agricultural lifestyle was always close to her because her grandparents had a farm in the area where she would always go see the horses, pet the wild cats and pick up birds.
Then once they were able to purchase an acreage then it was easier to dedicate more time to the western lifestyle.
"Dunmore was a close knit community and I loved it there and to be able to move down where I could have my horses out my back yard was great ," said Padfield.
She is enrolling in the Fine Arts degree program at Medicine Hat College this fall.