Harvest starts early as crops begin to shrivel up
Posted on August 1, 2017 by 40 Mile Commentator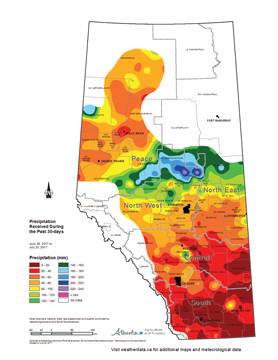 Photo courtesy of Alberta Agriculture and Forestry
By Jamie Rieger
The hot, dry weather has been persistent in southeast Alberta over the last several weeks and it's starting to take its toll on crops, especially where there is no irrigation.
Joan Hughson, who ranches south of Foremost said they are watching their crops dry up and hoping that no fire starts.
"The water holes for the cattle are still all right, but our crops are shriveling," said Hughson, who said they will be starting to harvest their lentils this week. "It's not going to be a very good crop. At least the prices have gone up."
Hughson noted that since June 1, they have received about 1.5 inches of rain in their area.
County of Forty Mile Ag. fieldman, Dave Matz said farmers have started their harvest in some area, particularly peas and lentils.
"The quality is good, but the yield is terrible," said Matz, adding that the crops are looking better between Whitla and Seven Persons than in other regions.
Typically during hot, dry summers, there tends to be an abundance of grasshoppers, but thus far, that does not seem to be the case and Matz will be out during the first week of August to do a grasshopper survey.
At the opposite end of the county, Bob Laidlaw said people should expect dry summers in this region.
"We have gone back to the way Bow Island used to be like. We've gone through a number of years with significant above average precipitation and now people expect that," said Laidlaw.
Laidlaw added that the native grasses in the grazing leases have gone dormant and Laidlaw Ranching kept their cattle at the feedlot this year.
"The native grass doesn't grow in August anyway, it's already gone dormant, but we didn't send any cattle at all this year. If you over-graze what is there, it would be pretty damaging," he said.
While the precipitation in the region has been minimal over the past few weeks, it was better early in the spring.
"Since the start of the year, we've had about six inches, all very early in the spring. Since then, we have had no rain and there was very little spring run-off," he said.
The Weather Network 14-day forecast shows no rain in sight with temperatures expect to hover around the 30C mark.