Barnes backs Kenney in UCP leadership race
Posted on August 8, 2017 by 40 Mile Commentator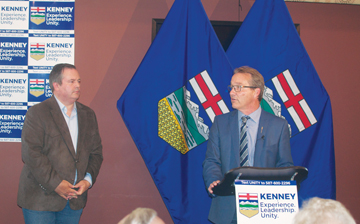 Photo by Justin Seward Cypress-Medicine Hat MLA Drew Barnes announced he will be backing hopeful new UCP leader Jason Kenney during an event at the Paradise Valley Golf Course on Aug. 2.
By Justin Seward
United Conservative Party (UCP) Cypress-Medicine Hat MLA Drew Barnes announced in front of a packed room of mixed Wildrose and PC followers that he will be giving his full support behind Jason Kenney to become the next leader of the UCP Party at the Paradise Valley Golf Course on Aug. 2.
"We're hard working, we're independent, sometimes too independent when it comes to what we deserve from the government," said Barnes.
"But what I'm seeing in Jason's career and in the short few weeks that I've been talking to Jason and in the year in a half, you've been working hard. 'Jason I'm so pleased to say that all these values exemplify your hard work.'"
He praised Kenney for putting 80,000 Km on his truck in the last year and for his efforts saw the PC and Wildrose parties have a vote of 95 per cent to unite on July 22.
Kenney has been in politics for 19 years and Barnes was equally impressed with what he was able to accomplish with Stephen Harper's government with getting Canada through a financial crisis and leaving it in much better shape than it is today.
"I absolutely know that your physical Conservative values are shared in this room," said Barnes.
He added Kenney is needed because of the situation that Alberta is in with Ottawa currently because of Prime Minister Justin Trudeau's lack of focus with the local economy or the next generation and rather be number one on the world stage and not care as much about families and communities.
The hope for Kenney is from his experience and ability to restore the Alberta advantage.
While being the local MLA, Barnes deals with agriculture quite often in southeastern Alberta and with the possibility of Kenney being the UCP Party that the rural issues will become more of the forefront.
"It means that property rights (and) our rural services will be front and center," said Barnes.
"It means people like me will have a voice. But most importantly, it means all Albertans from southeastern Alberta will have a voice. So often it seems like we pay our taxes without getting our share of services and representation. HALO and the Fixed Wing Medevac are perfect examples of that."
He added that it is unfair that the rest of Alberta received $13-15 million a year of tax dollars to support STARS when HALO see none of those funds.
According to Barnes, the change is simple in if that money is going out, it goes out on a full per capita basis to all Albertans.
Kenney thanked Barnes because over the last year he has come to known as a remarkable principled public servant who is motivated by his deep passion for Alberta by his integrity and is this position for all the right reasons.
"I am truly honoured to have you in my court," said Kenney.
"Drew is one of the veterans of the United Conservative caucus and one of the highest profiled former Wildrose MLAs. I think it bode very well for our campaign in southeast Alberta but he also has respect and connections across the province. He's told he wants to do everything he can to help across Alberta, so we're going to be putting him to work."
The next UCP leader with elected on Oct. 28. Kenney will be up against former leader of the Wildrose Party Brian Jean and Calgary lawyer Doug Schweitzer.