Hok to challenge for Ward 8 seat
Posted on September 5, 2017 by 40 Mile Commentator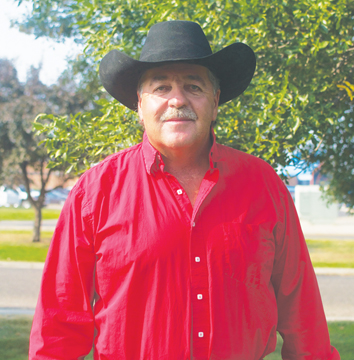 File photo Cypress County Coun. Shane Hok
By Justin Seward
Shane Hok will be running against longtime Cypress County councillor LeRay Pahl for the Ward 8 (Redcliff/Hwy 23) chair in the Oct. 16 municipal election.
Hok currently ranches 200 cattle west of Redcliff, is the president of Pipeline Grazing and the southeastern Alberta Rural Crime Watch and owns a trucking company.
He said although he is one vote that he wants to bring new ideas and a vision, and with his experience with building highways with South Rock for 25 years and over 18 years as a project manager where he is used to running on a budget.
"He's done the county a lot of good," said Hok of Pahl.
"It's just 30 years, maybe it's time for a change."
Pahl had worked on getting the Parramatta Water Co-op completed, getting potable water to his area and high speed Internet to rural residence which are high priorities on Hok's agenda.
"The pony express is a little quicker than the Internet," said Hok.
"I'm nine kilometers off Highway 1 and when I go down to the barn, I can't even get cell service. You can see towers but I can't reach it. Potable water is a big thing and it is down the road to that."
Another big issue being involved in the road business is Highway 41 needs to be addressed from Highway 1 to Elkwater.
Hok said this stretch of road is a narrow, dangerous highway and wants the Cypress County council to speak up to lobby the government to do something about it.
The balance between on going county issues and agriculture will be important to him because while it is working right now it may cause concern when the situations start tipping the other way.
"You can't keep wasting all our agriculture land," he said.
"People got to realize, you can't stop progress in agriculture if you move out."
His hope is the fellow councillors will take his advice from his road building experience and agriculture to fix problems.