Foremost Historical Society tours Glen Echo School
Posted on September 19, 2017 by 40 Mile Commentator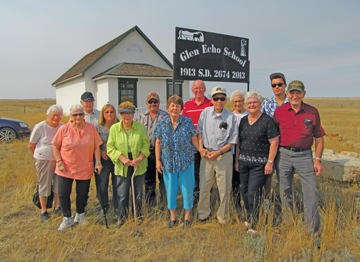 Photo submitted by Daphne Johnson
Submitted by Betty Van Staalduine
Several members of the Foremost and District Historical Society and guests were taken back in time as they explored the fully restored one-room school, Glen Echo, in the Conquerville area. The group had a memorable time checking out the classroom, blackboards, desks, maps, water jug, coal bin and some even the two-seater outhouse.
Harold Schnee was a very interesting, well informed host. He told of a meeting with his brother in Chilliwack whose dream had long been to restore this school. From there, Harold and his brother, Harvey, got to work.
The school had originally been sold to the Bow Island Legion and was used as the Legion Hall until the new Legion was built. It then became a laundromat and later a farm shed.
A beautiful cairn at the front of the school lists students and teachers from 1913-1945 and a dedication to the pioneers of the area.
Since the official opening of the restored Glen Echo School in 2015, names of many guests from near and far appear on the blackboard.
Our tour then continued on to St. Anthony's Cemetery where the original church bell has been dedicated to the area pioneers; and a ghost town, listed on the website "Ghost Towns of Canada", Nemiskam, which currently boasts a population of 2 people.
The afternoon concluded with refreshments, pictures and discussions at the Foremost Community Hall.