MacLean wants to continue serving the community
Posted on September 19, 2017 by 40 Mile Commentator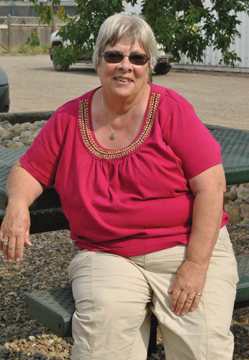 Photo by Jamie Rieger- Nan MacLean said she is proud of her community and will be running for another term as councilor for Bow Island.
By Jamie Rieger
It's been a decade since Nan MacLean first ran for Bow Island town council and she wants to continue playing a role in seeing the town move forward in a positive and vibrant direction.
"I really enjoy council. I try to think outside the box and see all sides of an issue. You have to see all sides of the equation," said MacLean, adding that while it is important for council to be fiscally responsible to the community, it is equally important to press forward with infrastructure projects.
"The Town tries to keep up with infrastructure projects like our roads. We have to keep moving forward with these projects because our underground infrastructure is decaying," she said.
She would also like to see the Town implement a recycling pick-up program to reduce the amount of waste going to the local landfill.
"I want to see recycling pick-up. I know there will be a cost, but it will be better for the long-term," said MacLean.
Over the four decades, she and her family have been living in Bow Island, MacLean has always been active with numerous committees and organizations.
She has volunteered as a Beaver leader, chaired the Rec. board, sat on the Chamber of Commerce board, chaired the rodeo committee, was involved with minor sports as her kids were growing up, was chair of the library board, and is active with the Bow Island Health Foundation.
"I think I have my mother's blood. She belonged to a lot of organizations and I feel it is a good way of serving your community," said MacLean, who has sat for two three-year terms and one four-year term.