Cypress County investigating Ye Olde Jar Bar complaints
Posted on September 26, 2017 by 40 Mile Commentator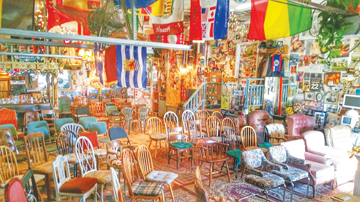 Facebook image- Veinerville's Ye Olde Jar Bar has been a popular entertainment hub for a number of years, but has recently been the center of unforeseen complaints.
By Justin Seward
The Ye Olde Jar Bar in Veinerville has been a favourite hub for local entertainment for a number of years but after receiving recent complaints there is some uncertainty as to whether or not the entertainment venue will stay put.
Cypress County CAO Doug Henderson said the county is looking into the complaints to see whether or not they are valid and if they need to be dealt with.
Issues include the parking and that has been turned over to the RCMP, while the noise has been transferred to the noise bylaw but there has been no violations reported and the most important situation being the land use bylaw.
Henderson referred to the land use bylaw because it is still undetermined if the Ye Olde Jar Bar is doing an appropriate activity in a residential neighbourhood and the county is waiting for a legal opinion on the matter to see if anything needs to be done.
"There have been complaints over the years on the Ye Olde Jar Bar but I don't think they're consistent," said Henderson.
"You'll get a complaint and next time you won't hear anything. The main thing is looking at getting a legal opinion, whether it's appropriate use in our land use bylaw that we have on these events in a residential area. Are they actually considered a concert type event or is it like a house party? It really comes down to how they promote themselves and the frequency of events and how many people are there."
Veinerville resident Greg Bueckert is the backbone for the complaints for the area and according to him the issues have been ongoing for awhile.
"If it's for the love of music, well then put it some place where it should be, not in a residential area," said Bueckert.
"One of my neighbours says 'What give them the right to run a hotel in the middle of a residential area?' The complaints have been forwarded to the municipality for sometime and nothing ever gets done."
Bueckert got involved in the situation because he not only lives in the community but his tenant contacted him one Sunday afternoon saying 'my six-month-old child cannot sleep because of the noise,' and on a personal level being chased back into his home because of the noise.
"I had to go into my house and turn up the volume on my TV so I can enjoy my own TV," said Bueckert.
"Now is that something you want inside you on a regular basis? Half of the people I talk to do not want to be involved. Most of these people are people that live in Veinerville. We all pay our taxes, we have rights and yet from our side what they're appearing to do is trample everybody's basic rights."
When he came back to see what was happening during a recent show, he found there were 38 cars, including two half tons blocking each end of the allies.
"I could barely get into the hamlet," he said.
"They had the allies blocked off, which is totally unacceptable. We had no in and out, no ingress or egress from the hamlet other then dancing through these cars that are parked all over the place. You'll never get an ambulance or fire truck through there."
He had attended an event there and he questioned the facilities because women were able to use the bathrooms inside while the men had to use the fence outside.
Ye Olde Jar Bar owners Piet and Ina Visser were unaware of the issues made by Beuckert.
"I don't know what these complaints are," said Piet.
"I haven't been receiving them except through the media. My thought process is lets make this a positive community, let's create culture. Let's not be trying to do things that are going to destroy the community."
He said there was a funeral on the same day as a concert and that was the only noise complaint received two year ago.