UPDATED: Walsh firefighter and rancher, James Hargrave loses life fighting wildfire
Posted on October 18, 2017 by 40 Mile Commentator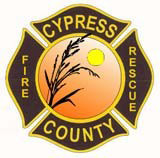 The Redcliff RCMP have issued the following statement in regards to the fatality:
A Cypress County Firefighter was killed during the efforts to combat a wildfire north of Medicine Hat last night.
On October 17, a grassfire ignited in Cypress County near township road 180 approximately 5 miles west of Highway 41. The fire grew rapidly in size and moved quickly eastward due to high winds and dry fuels. Cypress County Fire Fighters and RCMP evacuated the communities of Hilda and Schuler due to the risk posed by the fire.
The fire moved east into Saskatchewan and Cypress County fire fighters assisted Saskatchewan fire fighters to fight the fire near the communities of Leader and Burstall. During the fire-fighting efforts, a collision occurred between water truck and pick-up truck. The lone occupant of the water truck, a 34-year-old male and volunteer fire fighter from Cypress County died at the scene.
This tragic loss of life speaks to the danger that this emergency posed and also to the heroism of the volunteers who sacrifice in service of their neighbors. The RCMP extends its deepest and most sincere condolences to the family of the deceased as well as his friends and colleagues in the Cypress County fire department.
Walsh firefighter, James Hargrave loses life battling wildfire
It is with deep sadness that Cypress County confirms that James Hargrave, a firefighter with the Walsh Fire Station has passed away in the line of duty. James was very community minded and joined the fire services to help and protect residents far and near. He was a great father and will be dearly missed by his wife, children, extended family, friends, neighbors and fellow first responders.
No further details will be released.