Oster voted in as Cypress County's new reeve
Posted on October 31, 2017 by 40 Mile Commentator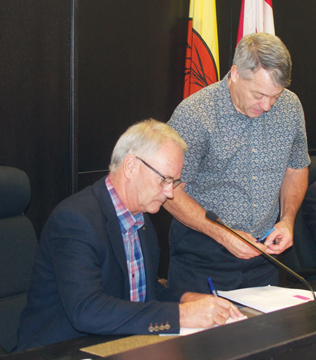 By Justin Seward
Commentator/Courier
Richard Oster was sworn in under oath as the new reeve of Cypress County after outvoting Darcy Geigle for the position at the Oct. 24 organizational meeting.
Oster was the reeve once before but was ousted out by his fellow councilors in 2014 where he learned from the experience.
"I'm pretty excited about it," said Oster.
"When I was reeve back a few years ago, I didn't do quite the process I should have. I've learned a lot and I'm looking forward to being the reeve now and to building a group (and) all working together with lots of communication and moving us forward ."
Oster was asked about the Fire Service Board and how important it is to keep a strong relationship with the current fire chief.
"My thoughts are we hired a fire chief that I think is very confident," said Oster.
"He has shown great leadership and everything that's happened since he's been hired. I feel that he doesn't need us to give him direction. He has the firefighter's respect and they are following him and so why would be involved in any kind of direction on a committee."
He would like to continue to build on relations with the City of Medicine Hat on situations that are already ongoing and get some direction on highway improvements during his tenure as reeve.
Improvements would include lights at the Dunmore intersection where the service station is because that is one of council's priorities.
As for working with the current council, the more diversified council the better off they will be as a group.
Now former reeve Darcy Geigle, who later in the meeting, was ousted by Dan Hamilton for the deputy reeve's spot, was not sour about losing out to the other candidates in those positions.
"We've been in this position before," said Geigle.
" I was the reeve the last two years and I'll see how this plays out and that was the vote. We work as a team and I hope it happens."
Despite having a strong agricultural background, it was only a matter of time before an urban feel would be hovering around council.
"Before the county get overtaken, we'll probably see some different strategies now but that's why there is nine of us," said Geigle.
"We're still a county but with the subdivisions growing and the hamlets growing, this was just a matter of time."
He is officially the last longest standing councilor on Cypress County council.