Island Art Club's Featured Artist
Posted on November 28, 2017 by 40 Mile Commentator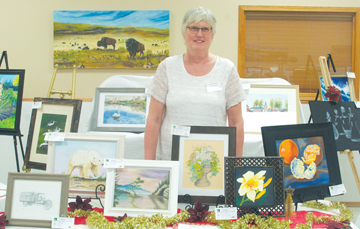 Commentator/ Courier Zwaan Visser displays her variety of artwork during the Christmas Art and Show Sale at the Golden Age Centre on Nov. 24
By Justin Seward
Commentator/Courier
Zwaan Visser had found a passion for painting after she became a member of the Island Art Club and saw the artwork for the town's 100th anniversary.
Now five years later she was the annual Featured Artist for the club's arts and craft show at the Golden Age Centre on Nov. 24.
"It's very weird, I don't know really," said Visser.
"If you see my pictures, everything is different. I don't have one particular kind of thing I want to paint. Then I think 'Oh I like that bird, let's paint that.'"
She added that she does a lot of acrylics, chalk pastels and pencil drawings.
Her artwork is anything from the prairie landscape and birds to her native homeland Holland's culture and background.
After displaying her creations all day, she knows she still has a lot of growing to do with her passion and wants to continue to challenge herself.