Redcliff Scouts always improving upon their life skills
Posted on November 28, 2017 by 40 Mile Commentator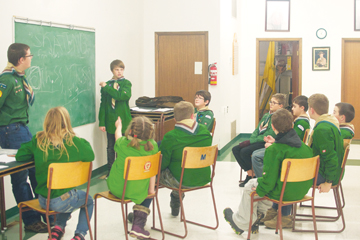 By: Justin Seward
Commentator/Courier
The Redcliff Scouts program is a co-ed opportunity for boys and girls to stay occupied in a small community while learning life skills and working with other kids that they have not met anywhere else in town.
"It's a good thing," Rob Ewert, section leader for the Scouts.
"It's open to all kids. It's not necessarily just boys or just girls. These kids in some cases see each other at school. If they want to do it, the program is there."
The program is ran in meetings where they are asked to decide as a group as to what they want to do not only that evening but in the future.
"The program is broken down into Plan Do Review," said Ewert.
"Tonight (Nov. 15) what they're doing is reviewing the Remembrance Day services. What went well, what didn't go well and what they could do differently but they have full affect over."
Some groups will decide to work on their outdoor skills, while others will participate in programs such as STEM (Science, Technology, Engineering and Mathematics, which is exercising the scientific side of their brains and working on group projects.
Once the Beavers and Cubs levels are completed, more responsibilities and challenges are thrown upon the Scouts which included a kayaking course with the Venturers and when the members start getting into the third year Cubs and up there is a week long camp with a five kilometer hike through the Cypress Hills Provincial Park.
"That's your lifeskills, is learning to grow," said Ewert.
His hope is for the Redcliff Baden-Powell Centre to be a place where the kids can hang out and have fun at the meetings and bring that to their schools and bring more of their friends back to participate in meetings.
Ewert believes if the kids do not stick with the program that there is a lesson that can be taken from it in life.