Servus Credit Union and BI begin arena partnership
Posted on December 5, 2017 by 40 Mile Commentator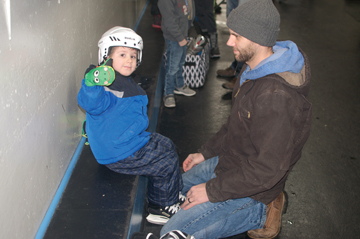 Photo by Justin Seward Levi Wudrich gives a thumbs up after his dad Wade finishes tying his skates during the Servus Credit Union Family Free skate in Bow Island on Dec. 3.
By Justin Seward
Commentator/ Courier
Servus Credit Union had been in discussions with the Town of Bow Island since the end of summer about coming on board as the new sponsor of the arena.
Now the town's arena has been recently been named the Servus Community Arena.
"Essentially, it was something that Servus Credit Union felt was important to try and support the community arena," said Aprill Hintz, Bow Island's branch manager
"We definitely wanted that open communication in regards to what we can do in order to make that happen. We just thought it was important that we definitely worked hard to strive for (it)."
Bow Island Mayor Gordon Reynolds said on behalf of the town that the Servus Credit Union's community support has been much appreciated since they have been in operation in town.
"They're taking it to another level now in the support of the arena," said Reynolds.
"This does help with our operations and recreation is an important aspect of community life. It's one that can be hard for municipalities to pay for. Any support is greatly appreciated"
Servus began the partnership with the first Free Family Skate Sundays on Dec. 3 and will continue on the first Sunday of every month until March from 5-7 p.m.
The official sponsorship launch will be at the next free family skate on Jan. 7 from 5-7 p.m.
Activities will include free hot chocolate, giveaways and interacting with one another with the community.