Wildlife biologist gives talk on Prairie Rattlesnake in Redcliff
Posted on December 12, 2017 by 40 Mile Commentator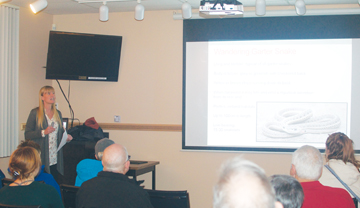 Commentator/Courier Photo by Justin Seward Alberta government wildlife biologist Sandi Robertson gave a talk on the Prairie Rattlesnake on Nov. 29 at the Redcliff Public Library.
By Justin Seward
Commentator/Courier
Alberta government wildlife biologist Sandi Robertson gave an education talk to a near capacity Redcliff Public Library meeting room on the snake species that slither around southeastern Alberta on Nov. 29.
Her focus was to inform people on a snake's biology, threats they may face and why the reptile is important in their surroundings and what people should do if they cross paths with the animal.
"I am the responsible lead for rattlesnakes in the province, said Robertson.
"What I do with that is monitoring their populations. That's what I spend most of my time with and trying to find their hibernacula and making sure there is healthy populations of rattlesnakes in Alberta."
She said that in southeastern Alberta there is a declining snake population and are designated as a species of concern.
"Overall there is a lot of threats and current land use in rattlesnake range," she said.
"There's a lot of threats rattlesnakes face on a daily basis in the summer."
However, the snakes do more good than harm in the environment because they decrease the rodent population and allow for the farmers to have a good yield.
Another topic of interest when it comes to rattlesnakes that she wanted to remind people they are gentle creature and you do not have to be terrified of them because there has been no deaths as a result of a bite.