Cypress County holds Seven Persons structure plan open house
Posted on December 19, 2017 by 40 Mile Commentator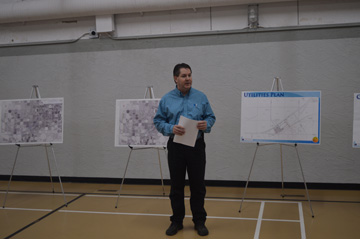 NEWS PHOTO JEREMY APPEL Cypress County planning supervisor Jeffrey Dowling presents an update on the strategic area plan for the Hamlet of Seven Persons at a Thursday open house.
By Jeremy Appel
Commentator/Courier
Cypress County held an open house to update the public on its Seven Persons area structure plan, the first of its kind for the hamlet, on Dec. 14.
The last public consultation on the structure plan occurred in June.
Kaylene Hallett, the county's assistant planner, said the plan serves as a guide for future land uses, whether residential, commercial or public.
"We've determined what land is viable for that use," Hallett said, adding that the plan includes infrastructure and roadways.
The structure plan is concerned with where development can occur, whereas the Land-use Bylaw determines what types of developments can be built in those places.
"The Land-use Bylaw regulates the development, so it imposes the proper setback requirements, site coverage (and) uses that are permitted in certain areas," said Hallett.
"(The strategic plan) is strictly just a guide for future development, whether it's 10 years from now, 30 years from now, it's a guide for us to follow in case a developer comes along."
The study area for the plan includes a significant portion of agricultural land north of the hamlet in anticipation of future development spurred by the twinning of Highway 3.
Before implementation, the plan needs approval from county council, under whose direction the strategic plan was conceived, in the form of a bylaw.
This will occur at some point in the new year.
"We didn't have one for Seven Persons, so council said, 'let's go do it,'" said Cypress County Reeve Richard Oster.
Council also has the ability to tweak the plan as it sees fit.
"Cypress County wants to do upgrading on the water and sewer and also on the streets, so once this plan is in place it just helps us more with that direction with where we're going to fix things and what we're going to do," Oster said.
The county's planning supervisor Jeffrey Dowling said it's simply a matter of the county being prepared for future development in Seven Persons.
"It's basically just being proactive, so when a development does come along we have the right area already identified for compatible uses in the surrounding (areas), so we can have some harmony," Dowling said.
The plan can be viewed in full at http://www.cypress.ab.ca/content/seven-persons-area-structure-plan-open-house.