Joy of Giving campaign helping less fortunate
Posted on December 29, 2017 by 40 Mile Commentator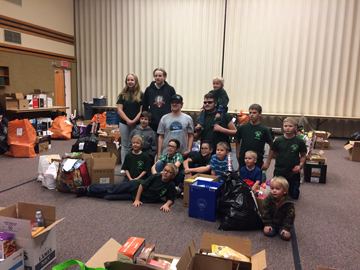 by Jeremy Appel
Commentator/Courier
Bow Island's Joy of Giving campaign, which provides Christmas food and gifts to those in need, is gearing up for the holiday weekend.
Laurie Haynes, the Joy of Giving chairperson, said there are 30 families, which include about 65 children, who are registered with the program.
She said the number of people who use the service has remained consistent over the past few years.
The campaign has been active in the town for more than 20 years.
Volunteers sorted through the donations Dec. 20, ensuring that each hampers contains enough food for each family and a toy for every child.
They then delivered the packages on Dec. 21.
The campaign receives its list of recipients through recommendations from local agencies.
"Their names are turned in by FCSS or hospital staff, or whomever," said Haynes. "Anybody can nominate a family."
The deadline for item donations is passed, but it's important for future donors to check expiry dates on food and ensure their toys are new.
"We always see expired food, or we collect stuffed animals and we've had used toys turned in and then we can't use it," she said. "Everything is supposed to be new."
The campaign also collects cash donations, which can be given any time before the new year.
Those interested in providing a cash donation can contact Haynes at 403-545-6296.