Lady Talons reel in sportsmanship award
Posted on March 6, 2018 by 40 Mile Commentator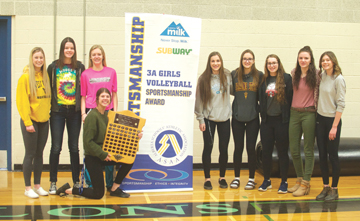 SOUTHERN ALBERTA NEWS PHOTO BY JUSTIN SEWARD: The Eagle Butte Talons senior girls volleyball team were awarded the sportmanship award on Tuesday. Missing: Megan Kowalski and Darby Sauter.
Justin Seward
Commentator/Courier
The Eagle Butte High School Talons senior girls volleyball team were caught by surprise when they were called up to the front of their peers during an assembly on Feb. 27 in the gym.
The team found out at that moment they were the winners of the Wayne Neilsen Sportmanship award for taking their time to give back at provincials in Sylvan Lake this past November
"It was pretty cool," said Amer Karamanos.
"We never gotten one of those before and especially at a provincial, which is a cool feeling."
It was while at the tournament that the team was able to gather a group of local area students from different schools to make signs with and the players would high five them before the games and attend their schools after to say thank you.
"It shows our character and how we actually are supportive of each other," she said
"Some of the kids actually came out after school to support us. We actually took one of the little girls out and she actually ate with us too and then she came back to our hotel room to hang out with us for the night."
It was Leeanne Arnott's first banner other then this season's city banner and was surprised in a good way to share in the team honour.
"It just shows other coaches (and) other teams how sportsmanlike we are and it shows how we bond," said Arnott.
"I'll probably remember this the rest of my life."
Eagle Butte finished fifth at the 3A championships.