Free flights for women available this week in the Hat
Posted on March 13, 2018 by 40 Mile Commentator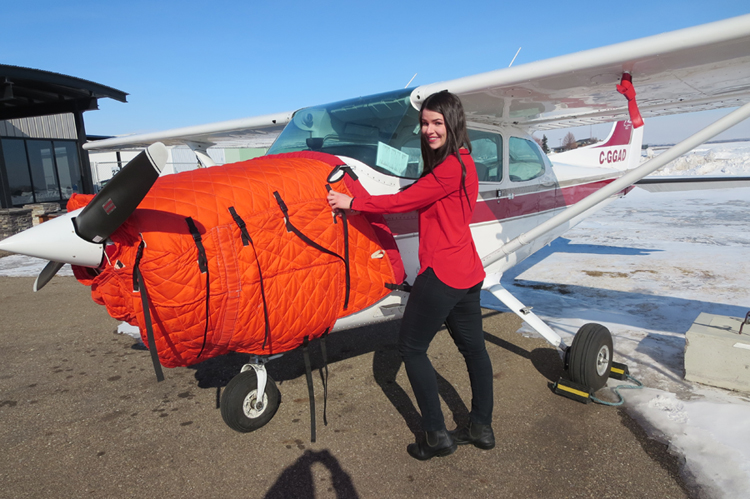 Southern Alberta Newspapers photo by Gillian Slade Larissa Lindsay, pilot and dispatcher Super T Aviation, adjusts the cover over the engine of an aircraft on a chilly winter day at Medicine Hat Airport.
By Jeremy Appel
Commentator/Courier
Medicine Hat's Super T Aviation is offering free 15-minute flights for women between March 10 and 16 in honour of Women of Aviation Worldwide Week.
Larissa Lindsay, a pilot and dispatcher for Super T Aviation, says the sessions are open to women of all ages from anywhere in southern Alberta, not just the Hat.
"Anyone who just has an interest in aviation, or interested in starting a career in aviation, we want to give them that option," said Lindsay.
"There doesn't have to be any limits or barriers for women by sex or age."
There is a vast age range of people already registered for the event — from six to 92-years-old.
Lindsay says the goal of the free flights is to encourage ladies to get involved in a profession that is disproportionately male.
"We're working to inspire women to pursue a career in aviation, because right now only less than 10 per cent of the pilot industry is made up of females, so we're working to increase that number and show women that there's options like that for them," said Lindsay.
The flights can be scheduled anytime from 8 a.m. during the week-long event.
In keeping with the spirit of Women of Aviation, the pilots are all female.
"We pick you up and go over Medicine Hat," Lindsay said. "The girls will get to experience the cockpit firsthand."
Women of Aviation Week festivities are taking place all over the world — from Golfe, Angola, to Kuala Lumpur, Malaysia, to Martin, Slovakia, and Mexicali, Mexico.
Women in the area interested in getting a taste of flying can call Lindsay at 403-548-6636.