Rec-Tangle Arena installs new flooring
Posted on April 17, 2018 by 40 Mile Commentator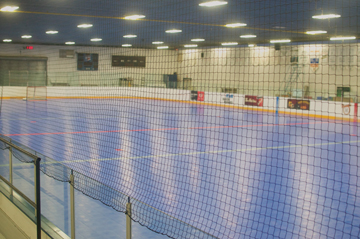 By Justin Seward
Commentator/ Courier
Local athletes will have a more playing friendly surface to play on this summer after the Town of Redcliff made an upgrade from cement pad earlier this month at the Rec-Tangle Arena.
"The sport court flooring was installed as it allows for more use of the facility during the spring and summer months and can ultimately provide additional recreation opportunities in the community," said Arlos Crofts, the town's municipal manager.
"When compared to playing on the regular cement, the sport court surface should result in improved playability with lower impact on shock joints, with better grip and safety."
The upgrade was a part of a project supported by town council that started at the beginning of 2017 and was possible because of the matching Canada 150 grant of $85,000.
Other replacements included the lightning going to LED, furnaces, water heaters, hot water tanks and motion sensors. The main washrooms and the concession were updated with new equipment and counter tops.
"These upgrades were completed in an effort to improve some energy efficiency and enhance the user experience of the facility," said Crofts.