Drier conditions are being experienced in Cypress County
Posted on May 1, 2018 by 40 Mile Commentator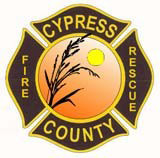 The snow has melted in Cypress County but now with spring arriving, it is meant drier conditions and an early fire risk.
Cypress County fire chief Kelly Meyer said it is "very dry" in the county.
"There's an increased fuel load left over from last year in the field and that fuel is very easily ignited," said Meyer.
"We are in the fire restriction right now and we are issuing permits on the basis of farmers and ranchers, that burning is required for their livelihood. They need to have water trucks on scene, equipment on scene and people on scene to be able to do a controlled burn."
If those requirements are met, then the county will issue a permit to them.
The risk of a fire is high and that is why Cypress County is not allowing open pits, said Meyer.
He considers this time of year "weird" because the snow is gone, leaving the ground with moisture in some areas. However, with an increased fuel load, fire crews will not be able to get their trucks in those areas to fight the fire with the wetter grounds.
"We've been watching it very closely" said Meyer.
"We were actually thinking how we were going to break up the county geographically and put fire restrictions in place. But with the fire season we had last year, we're just going to take every precaution not to have another bad fire."
Firefighters are receiving refreshers on grassland firefighting, while residents are being reminded to use caution with their burning barrels.